The COVID-19 pandemic has brought a lot of change in the way people use technology. Many had to invest in laptops and other similar gadgets to make their student/work life more manageable. We all want to make our life simpler. And adding a mouse to your gadget list would surely bring about a change. 
While laptops do come with trackpads, some would have problems with them. Either they aren't responsive or fast-paced for your works. In these scenarios, a good mouse would be of enormous help. 
This blog post will look at some of the best-wired mouses under Rs.500 in India. While many might debate that wireless alternatives are convenient, wired mouses produce no lag and are more responsive in day-to-day usage. Hence, investing in an excellent wired mouse if you are on a budget will produce good results.
Best Wired Mouse Under Rs.500
LogicalShout has put this list together after hours of extensive research. There are mouses from some of the top brands available in the country and are ranked according to the product's quality and the features they provide.  
For the different price range, check out the wired mouse category; also can have a look at the best wireless mouse under Rs.1000.
1. Logitech M90
The top pick in our list is the Logitech M90, a perfect all-rounder for all your tasks. The M90 can be termed a professional mouse that cruises your way past any work you have to complete.
Design & Build Quality – The Logitech M90 has a design that is comfortable to use and stays fit to your hands. The build is strong and sturdy for the price, and the all-black finish makes it look classic. There are no other color options which is a shame, but most people would be happy with black.
The buttons in the mouse are very agile and responsive. The scrolling ratchet wheel, too, does its job well.
Usability – The performance of this mouse is a high standard. With its high-definition optical tracking, using the mouse results in a smooth and precise performance.
The mouse supports Windows OS, Mac OS, Linux as well as Chrome OS. Since it is corded, there is no software to install, just plug in the mouse and get started with it that easily. We would point out that this very mouse from Logitech isn't meant for gaming. However, for everyday tasks and small editing works, this does the job well.
Key Features:
Wired USB mouse
Hassle-free setup
Support for Windows, Mac, Linux, and Chrome OS
High-definition optical tracking
Verdict
Our top pick is the Logitech M90 for the value it provides in such a price range. It is suitable for most types of users and is well-rounded.
Pros
Durable and sturdy build for daily and rough usage
Smooth and precise responses for office or other works
Good grip through most surfaces
Support for all major OS systems is available
Cons
It might not be the best for gaming
---
2. Lenovo 300
Lenovo has always managed to bring quality products for the correct price tag. And that success formula has repeated with the Lenovo 300 wired mouse that is haptic, affordable, and productive.
Design & Build Quality – The Lenovo 300 USB mouse stands out thanks to its design. The black body and the orange tint on the scrolling ratchet is appealing to one's eye.
Lenovo 300 comes with a single matt black shade, and it is elegant indeed.
It is comfortable to use even for a longer duration and, with its good grip, is suitable for office/student work and even for basic gaming.
Usability – The Lenovo 300 is good in the performance criteria too. The high-resolution 1600 DPI optical sensor ensures a smooth and fast response from your screen. The USB corded mouse supports Windows, Mac, Linux, and Chrome OS.
Key Features:
Wired USB Mouse
Aesthetic build
Supports Windows, Mac, Linux, and Chrome OS
High resolution 1600 DPI Optical Sensor
Verdict
The Lenovo 300 is for those who want something stylish yet productive. Its great design and usability secure the second spot on our list of best mouses under Rs.500.
Pros
Ergonomic design that fits in your hand seamlessly
Modern design that instantly attracts
Fast and responsive in performance
Cons
The small design may not be suited for all
---
3. Dell MS116
A clean and productive mouse that does its task well is what the Dell MS116 is. It is priced right while bringing in the Dell name of luxury.
Design & Build Quality – The Dell MS116 features a classy black design. It is aesthetic in its build, making way for a lot of comforts and user freedom. It is ideal for office and work-related use and will stay convenient even during long working hours.
Usability – The wired connectivity mouse provides a solid performance throughout. The 1000 DPI optical tracking is comparatively lower than the first two choices on our list offer but manages to provide good tracking and responses regardless of the task you perform with it.
Key Features:
Wired USB Mouse
Aesthetic comfort build
1000 DPI optical sensor
Support for every device with a USB port
Verdict
The Dell MS116 is priced considerably lower than the first two picks, and hence, it is a value-for-money product. It offers a good range of specifications, and we recommend it to everyone on a tight budget.
Pros
Classic design with a solid, sturdy build
Text selection and cursor movements are fast and accurate
Supports any device regardless of the OS installed
Cons
Not intended for gaming or high-end editing
---
4. HP X1000
Next on our list is the HP X1000. The brand being one of the biggest in the country, has launched an array of products in separate price tags, and for the price of just Rs.349, the HP X1000 is undoubtedly a bargain buy.
Design & Build Quality – HP has made the design of the X1000 in such a way that it easily fits in hand due to its small size. It is compact and glossy in its design which gives the feel of a premium mouse. It is a trendsetter, and its sleek finish lets you use it in any environment.
Usability – The optical sensor on the HP X1000 works on almost all surfaces. The three buttons are responsive, but the only shortcoming is that the mouse supports Windows only. There is no support for other OS systems, and this could be a problem for a few.
Key Features:
Wired mouse
Glossy premium design
Supports Windows OS
Optical sensor
Verdict
The HP X1000 can be an excellent choice for users looking for a compact mouse. It is functional, but the major drawback is that it supports only the Windows OS, leaving others in a dilemma.
Pros
Glossy and modernistic design that sets it apart
Fast and responsive
Cons
The small size may not be favorable to all
The mouse is only supported on Windows OS
---
5. HP USB X500
Another HP mouse on the list is the X500. HP has been continually pushing value for money accessories in the market, and the HP USB X500 is a solid proof for the same.
Design & Build Quality – The X500 has its glossy design on the sides and not throughout the body like the HP X1000. It has smooth navigation while working and there aren't any significant complaints about the design.
Usability – The HP USB X500 does not disappoint in its performance. Just plug-in, and you are on your way to work. We would have loved to see some additional features, but sadly HP has skipped out on them.
Key Features:
Wired USB mouse
Glossy design
Smooth navigation
Plug-in and use a corded mouse
Verdict
The HP USB X500 lacks in a few fronts but still manages to stay strong thanks to its design and usability ease. HP is renowned for the quality and after-sale services they provide, and the USB X500 marks down the same.
Pros
The ergonomic size that is comfortable to use
Smooth and fast navigation
Cons
Not suitable for gaming, high-end editing, or design works
---
6. Logitech M100R
Yet another product from Logitech had to make an entry on our list. The M100R may be priced slightly higher than the rest, but this wired mouse does bring some features to the table.
Design & Build Quality – The Logitech M100R comes with a very comforting design. The scrolling ratchet features a plush design and is comfortable at hand. It is perfectly sized for most hands and wouldn't be of any problem to any preferred hand. Logitech has further proved the brand quality with its build and sturdiness.
Usability – The M100R has an easy plug-in and uses the function. It is compatible with all OS systems and hence adds to its universal compatibility. It is smooth in its performance and responsive, but if you are used to soft click mouse, this might take some time to get used to.
Key Features:
Wired USB mouse
Universal compatibility
Easy plug-in and use functionality
Ambidextrous design
Verdict
The Logitech M100R is a fine choice from the company. It is vital in design and usability but might not be everyone's cup of tea, mainly if you are used to smooth and soft mouses in your workspace.
Pros
Design is comfortable for every type of user
Solid build that lasts even with rough usage
Cons
Not a soft click mouse, users would need time to get used to the buttons
---
7. AmazonBasics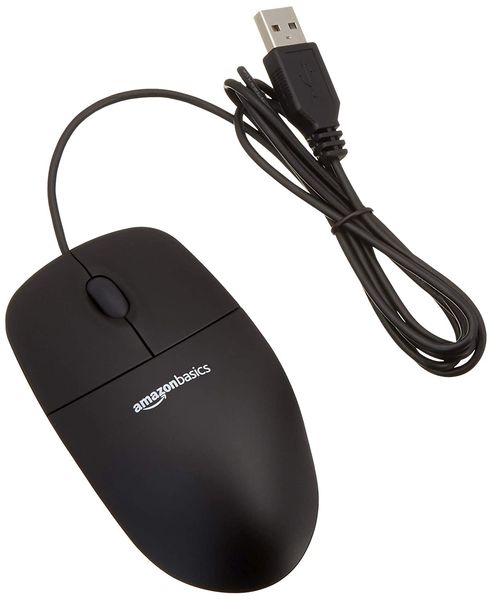 Amazon's brand has launched a lot many products across various categories. The 3-button wired mouse from the most prominent online retailer is a value for money product offering a good response.
Design & Build Quality – This mouse from AmazonBasics follows a simple design. A matte black color doesn't make it look the most attractive. The plastic build could be a concern for some, but it is smooth to hold and use.
Usability – It comes with a 1000 DPI high-resolution tracking which enables fast and responsive text selection and usage. The mouse works with Windows & Mac OS but misses out on support for Linux and Chrome OS, which is slightly a big concern.
Key Features:
3-button Wired USB mouse
High resolution 100 DPI Optical Sensor
Support for Windows & Mac OS
Smooth and precise
Verdict
While the AmazonBasics mouse has got several factors right, we do wish to see a better finish and support for more OS to keep it balanced among the competition. Nonetheless, it still outshines products from some top brands out there in the market.
Pros
Smooth, soft hold mouse that is easy to use
Precise and accurate moments for easy flow of work
Cons
Just 2 OS systems supported
Cheap build quality
---
8. HP M100
If you are an avid gamer, you'd be looking for a gaming mouse, and HP has you covered with the M100, a stylish mouse that comes with a price tag just slightly above Rs.500.
Design & Build Quality – The design is a big attraction in the mouse. All black with tints of blue around it is instantly attractive. The HP branding, too, is in blue to give the gamer feel to the user.
The color shines at night, glowing up your surroundings. The HP M100 has an ergonomic build and is comfortable to use while gaming or designing.
Usability – The HP M100 shows good response and works well regardless of which surface you use it on. Users can also adjust the DPI settings to either 1000 DPI or 1600 DPI to make the best use of the surface you've kept your mouse on.
The wired mouse brings three buttons, with the scroll acting as a third mouse button. This is for gamers and would provide seamless gaming space for beginners. If you are gaming on any OS other than Windows, that might pose an issue for you.
Key Features:
Wired USB gaming mouse
Ergonomic build
Glowing blue light
Adjustable DPI settings
Windows support
Verdict
For gamers, this is undoubtedly the best mouse under Rs.500. It has a striking design with precise tracking that'll keep users engaged.
Pros
Fast-paced movements and responsiveness for the price
Attractive design for gamers
Adjustable DPI settings for different situations
Cons
This may not be for pro gamers and is restricted for beginners only
Supports only Windows OS
---
9. HP 1000
HP is the household name that is producing affordable yet products with good quality in the market today. The HP 100 is a convenient mouse for everyday use that students might love.
Design & Build Quality – The HP 1000 is a compact mouse for everyday use. It may not be built for extensive gaming but does well for office and work usage. Both left and right-hand users won't face any issues with this mouse.
Usability – Usability is not the best when it comes to this mouse. It doesn't have high-resolution optical tracking or adjustable features. So if you aren't expecting much for the price, this purchase won't disappoint you.
Key Features:
Wired USB Mouse
Compact and ergonomic
Support for Windows & Mac
Verdict
The HP 1000 is more of a daily driver you can use for everyday work. It isn't comparable to the top choices for performance or support but still manages to be a good buy.
Pros
Compact design that is comfortable to use
Good for casual work
Cons
Only support for 2 OS systems
No high-end performance
---
10. Quantum QHM222
For those users wanting an entirely different mouse, the Quantum QHM222 is a considerable buy. Its unique design and functions secure the final spot on our list of Best Wired Mouse Under Rs.500.
Design & Build Quality – Design-wise, the Quantum QHM222 shines atop almost all the mouses on our list. It has a premium look with its ambidextrous design for both left and right-handed users. But it has a cheap build, so Quantum has missed out on it.
Usability – It is easy to get started with the mouse as it comes with a 1000 DPI optical sensor and plug-in and use functionality. There is no setup or any type of lag to keep you behind. However, performance is far below what the competition has to offer. Many users have suffered setbacks, and hence, it falls down its rank on our list.
Key Features:
Wired USB Mouse
Premium ambidextrous design
Easy plug-in and use
1000 DPI optical sensor
Verdict
The Quantum QHM222 being the last choice on the list, isn't short of features. While it does offer some excellent value for money, it falls behind on the quality and stability that the other options provide.
Pros
Design is fresh and feels premium
Easy to use setup
Cons
Cheap plastic build makes it unappealing
---
Conclusion
Let us take a look at the choices you can consider buying. If you want a mouse that is an all-rounder in all aspects, then the Logitech M90 is your perfect buy.
For gamers, the obvious choice would be the HP M100. It packs in a good punch for intermediate gaming, and finally, if you are on a tight budget, we recommend the Dell MS116.
Hopefully, the list has helped you choose better and, in turn, save your time. For more gadget-related news, stay tuned with LogicalShout. 
You May Like to Know:-