There are days when you want to try something new. Your current gadgets seem dull and old, and you want to do things differently. Have you tried to listen to your favorite music without having to untangle your earphone? Or are you looking for something you can carry easily and also look cool wearing it?
The smartphone industry has changed. Makers are going for various design overhauls to make their products more compelling. With the rise of flagship killers and budget smartphones, companies had to aim for the future. Most flagship offerings these days do not come with a headphone jack. Ever wondered why or when and how all this began?
Most of you would know the story, but for our readers who don't, let us tell you. The trend was kicked off by Apple back in 2017 with their iPhone X lineup. These were the first set of smartphones from a world-famous brand to ditch the traditional headphone jack. Soon companies such as Google, Motorola, Oppo, Xiaomi, among many others, adapted this.
The reason behind it is questionable. While Apple implemented this to save space, Google wanted a future-proof design. The result? Loyal customers to the brands were left troubled. Companies did provide dongle or USB-C type earphones, but they didn't live upto the hype.
People wanted something to replace their usual choice. That is when wireless earbuds started gaining popularity. Wireless earphones do not have a cable, nor do they require a headphone jack. They do not get tangled, and they are usually effortless to pair and use. They simply connect wirelessly and are one of the most convenient gadgets to use.
Best Bluetooth Earbuds in India
The list has been put together after hours of research and comparison, keeping in view the user feedback. Let's get started. Check out the best Bluetooth earphones in India, this blog post only contains the best true wireless earbuds in India.
1) Sony WF-1000XM3
When you see Sony written on any product, it instantly becomes the highlight. Sony is a long trusted brand in the market. The products always offer excellent quality and great resources. Our pick for the best true wireless earbud in India is the new Sony WF-1000MX3. Wondering why? Let's find out.
Build Quality & Design – The first impression the earbuds give us is premium quality. The earphone looks so well-built and designed. You are limited in color options; only black and silver variants are available, but both look stunning. The Sony logo is visible in the highlighted gold color.
Changing the track, receiving calls, or activating the voice assistant is simple as all you need to do is tap or swipe on the earphones. The earphones also offer many other touch controls, which are very useful to any customer.
Imagine you are at a party, you are listening to music, but someone comes to you to talk; you only need to speak for a few minutes, what would you do? You usually would pause your music, take off your earphones and chat, but the Sony WF-100MX3 makes life more straightforward with the quick attention mode.
If you place your hand over the left earbud, it turns the volume down and deactivates noise cancellation for you to make a natural conversation.
The earbuds have been designed in such a way that the second you take them off your ear, the music will pause. It has accurate wearing detection, and along with the attention mode, you never need to worry about missing a conversation again. There is also an in-built mic for hands-free calling, and with Alexa built-in, you're all set.
The earbuds come with six different sets of ear tips so that you can choose the one that gives you the best comfort, USB Type C cable, magnetic charging case, and a cleaning cloth. The magnetic charging case is another beautiful craft, and it adds to the overall premium look.
Battery Life – Talking about battery life, the Sony WF-100XM3 does not disappoint you. You get 6 hours of usage on a single charge, and with the charging case, you get another three full loads, making the earphone last a complete 24 hours.
It can easily last a whole day of heavy usage if you have the charging case along. You will not have to reach for your charger frequently. Another significant advantage is the quick charge function.
You're late for something and need your earbuds along the way? Do not worry as 10 minutes of charge will give you around 90 mins of usage. The Sony earbuds have the auto on/off feature when not in use, and this saves the battery considerably.
Sound Quality – Sony WF-1000XM3 features 24bit audio signal processing, which has drastically improved the sound. The sound quality is terrific, and it is perfect for every type of music lover. There is HD noise cancellation, which means you can hear every word with clear clarity no matter where you are.
Sony's premium offering comes with the smart listening feature. The earbuds adjust the sound according to the surrounding and user activity. Say you are travelling, and you want the earbuds in a medium volume; with smart listening enabled, the earbuds will do what is required without you needing to move. Sounds satisfying? Well, that's exactly how we felt as well.
Key Features:
24bit audio signal
HD noise cancellation
Battery life up to 24 hours
Alexa enabled
Quick attention mode
Wearing detection
Start listening
Verdict
Sony WF-1000XM3 is the Best True Wireless Earbud that you can buy today in India with a price tag of around Rs.16,000. The features are world-class, premium, and the earbuds are excellent value for money.
The battery will last you a whole day. With industry-leading noise Cancelling performance, these earbuds are a perfect companion for every type of activity and fit in any surrounding.
Pros
Design
Battery Life
Sound quality
Comfort
Noise Cancellation
Smart features
Cons
Call quality is just average with the mic.
No IP rating
---
2) Apple AirPods Pro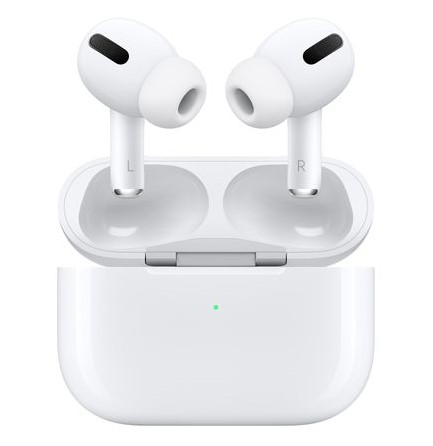 Apple is considered the most premium brand in the whole world. Apple products are usually more costly compared to the competitions, but build and performance-wise; they always deliver the best. Apple AirPods Pro is second on our list of Best True Wireless Earbud.
Build Quality & Design – An Apple product means luxurious quality. The AirPods are lightweight, and you will never feel any weight difference while you're wearing them. They are sweat and water-resistant, so wearing them while working out in the gym or while exercising won't be a problem.
The comfort of Airpods is incomparable. You get three sets of silicone ear tips, which you interchange to choose the one that fits you the most. When compared to the previous AirPods, the AirPods Pro offers a much better fit in the ear.
Battery Life – AirPods Pro can last for about 4.5 hours on a single charge, but with the charging case, you mostly get 24 hours of battery life, which is great for a truly wireless earbud. Apple claims you can get an hour of listening with just 5 minutes of charge,
Sound Quality – Apple AirPods Pro, with its custom speaker driver, amplifier, and H1 chip, produces superior sound. The bass is clear and pleasant; you could hear everything you want, without compromising on any quality. Siri also makes using the AirPods much convenient.
The active noise cancellation detects noise from both the outside environment and inside the ear. AirPods Pro then produces an equal anti-noise to counter it. It works like a mathematical equation where similar values cancel each other.
AirPods Pro features Transparency mode, which will let the outside sound be heard. This makes the conversation more comfortable and quick while wearing AirPods. Never miss out on essential or immediate interactions because you took too much time to pause your music.
Key Features:
Active Noise Cancellation
24-hour battery life
Transparency mode
Sweat and water-resistant
Verdict
AirPods Pro is an excellent choice for anyone looking for a truly wireless earphone. The earphones are costly compared to most others in the competition, but that is how it always is when it is an Apple product.
The only drawback is that android users are limited and do not have access to all features in the AirPods Pro. We suggest our readers only buy the AirPods Pro if you own an Apple phone.
Pros
Noise cancellation
Design
Battery
Features
Comfort fit
Cons
---
3) Beats Powerbeats Pro
Beats is a sub-brand of Apple that produces audio products. Beats is well known for its premium quality earphones. The Beats Powerbeats Pro is our next pick for the best true wireless earbud in India.
Build Quality & Design – The earbuds have an in-ear hook design that looks sporty, and any athlete would try this out. The ear hooks are adjustable and lightweight for comfort and stability. The overall build makes the earphone resistant to sweat and water, so if you are someone who is a workaholic, this earphone could be your best pick.
Multiple ear tips are provided with the box, and the earbuds stay in place no matter what activity you do, be it running, jogging, or working with weights.
Battery Life – Powerbeats Pro offers upto 9 hours of playback time, and with the charging case, you get a total time of 24 hours or more. A quick charge is also available, and just 5 mins of charge give you juice of 1.5 hours.
There is a sleep mode that comes with the earbuds, and it gets activated when the earbuds are not used for a limited time. Pretty useful if you are one of those people who forgets to turn off their gadgets. The sleep mode saves battery, and when you put them back in your ear, the earbuds turn back on smoothly.
Sound Quality – Powerbeats Pro similar to the Apple AirPods are powered by the Apple H1 chip, which produces excellent sound quality. Each earbud can connect independently to multiple devices, so if you are bored and your friend is along with you, just pass him an earbud and let him relax to the tunes of music.
Multiple microphones filter external noises and provide the utmost clarity. Pairing the earbuds is also very fast and easy if you own an Apple device.
Key Features:
Sporty design with adjustable ear hooks
24 hours of battery life
Sweat and Water-resistant
Noise cancellation
Verdict
Beats Powerbeats Pro seems like a sporty option from Apple for its active fan base. It is on the pricey side as well, but the earphones provide excellent quality build and performance and being just another Apple product, you can't expect it to be cheap.
For any sports-loving person, the Powerbeats Pro is the best true wireless earphone they can get; the design will last you long enough, and battery life will get you through all your activities.
Pros
Build & design
Battery life
Secure and comfort fit
Sound quality
Cons
---
4) Jabra Elite 75t
Established over 150 years ago, Jabra audio company understands the need for enhanced music experience. They provide the best sound solutions and manufacture the earphones which merge concentration along with innovation and technology. Jabra Elite 75t from their product list is one of the best Bluetooth earbuds you can buy today.
Build Quality & Design – Have one look at the Jabra Elite 75t, and you know these wireless earbuds will last you for a very long time. It has a compact design with a secure fit, so it stays in your ear all the time.
The durability is further added with the IP55 rating. Of course, our readers understand why an IP rating is attractive. What if the earbuds get covered in dust or if water splashes through it; if there is no protection at all, then it's time to bid goodbye to your earphones, but when you have an IP rated gadget, you can worry much less.
There is a 4-mic call technology to make your calls extra clear without any interference. You don't need to think twice before you take these earbuds outdoors with you.
Battery Life – Elite 75t gives you around 8 hours with a single charge, which is more than enough for an average user, but if you can't stay away from your phone and music, well, let's say Jabra won't leave you disheartened. With the charging case, you can get a total battery life of more than 28 hours, which is sufficient.
Sound Quality – Some features are exclusive, and that makes them unique. People buy a Galaxy Note because they know it comes with the S Pen, an exclusive feature that attracts. Jabra Elite has one excellent feature that makes it unique.
Elite 75t has a customizable equalizer available through the Jabra Sound+ app. Some people like their music in a particular style, and for them, this equalizer can help them in making their music sound exactly how they want.
The sound quality is impressive, and the earbuds are a treat for all bass lovers, and with the equalizer on board, Elite 75t offers elite performance.
Key Features:
IP55 rating
4-mic call technology
Compact design
28 hours of battery life
Customizable Equalizer
Verdict
Jabra Elite 75t deserves its spot in the list of best true wireless earbuds in India. The earbuds are durable, compact, and comfortable to use. It has an excellent battery backup, but one area of concern is when you make calls.
Personally, the clarity is ok and stable, but at times there is no noise cancellation at all. Leaving that aside, the Jabra Elite 75t is a very compelling purchase.
Pros
Design
Sound Quality
Bass
Battery
Cons
---
5) Apple AirPods
For those on a tighter budget, but still wanting the Apple branding, we have got the perfect earbuds for you. The Apple AirPods are a much cheaper product that always delivers outstanding performance.
Build Quality & Design – AirPods has the same design as any Apple earphone; the only difference being Airpods are wireless and much costlier. The design is a favorite among the audience, so we cannot comment much. The silicone ear tips are one sized, so many of you could face fit issues.
Battery Life – 5 hours of battery life on a single charge is what Apple claims. Additionally, you get 3 hours of playtime with just a 15-minute charge. With the charging case, you quickly get enough charge for a day.
Sound Quality – AirPods gives excellent sound quality, but the bass is still dim and not what you expect from an Apple product. AirPods do offer exceptional quality, but we believe that there are many better options out there without an Apple branding.
Key Features:
5 hours of battery life
Quick charge
Instant connection to IOS devices
Verdict
Apple AirPods can be considered the best wireless earbuds for iPhone, but with AirPods Pro in the market, AirPods offer very little. For an IOS user, AirPods being much cheaper is still an ideal buy.
Pros
Sound quality
Fast connections
Comfortable
Cons
---
6) Samsung Galaxy Buds
As everyone knows, the global market is held by two significant rivals; Samsung and Apple. Samsung continues to make meaningful technology every year. The Galaxy lineup of Samsung Products are as premium as Apple and has never let down its customers. The Samsung Galaxy buds is a perfect TWS earbud that caters to every user's needs.
Build Quality & Design – The Galaxy Buds are comfortable to be worn for a very long time and are very compact in design. The lightweight feature of these buds makes it a perfect choice for gyms, exercises, or activities like running, hiking, and so on.
For someone who always likes to move or for those who love travelling and exploring, Galaxy Buds is the best true wireless earbud that you can buy today. The comfortable ear tips stay in place while never bothering you.
Battery Life – Coming to battery life, the buds are power efficient with a 58mAh battery. The Galaxy Buds offer 6 hours on a single charge and an extra 7 hours with the charging case.
Sound Quality – AKG is a well-known name in the audio equipment industry, but only a few know that it is part of Samsung. With AKG on board, the Galaxy Buds offer crisp and clear sound.
Using the Galaxy wearable app, you can select different modes for the Buds. Worth noting is the fact that it has a defined bass, and with Dolby Atmos turned on, the overall performance from the Galaxy Buds gives you a fully-balanced audio experience.
Key Features:
Compact
6 hours of battery life
AKG powered
Verdict
For Samsung users, the Galaxy buds are the right choice. It is compact, gives out high audio quality and bass. Any android user can go for this option, but Samsung customers can fully utilize some features. Regardless, the Galaxy Buds priced just under Rs.10000 is still one of the best wireless earbuds.
Pros
Comfortable
Compact design
Sound quality and bass
Cons
The charging case only provides an extra 7 hours.
---
7) Bose SoundSport
Bose always tries to do things better than their rivals. It's more like they invent new technologies. They can maintain their position in the audio tech industry because they eliminate unwanted and make products that are fully optimized to meet customer needs.
SoundSport is the first TWS earbud from Bose that delivers classy performance and is next on our list of best true wireless earbuds in India.
Build Quality & Design – SoundSport has been designed to stay in the ear with its angled nozzle and StayHear+ Sport ear tips to make your earbuds stay in place even during hard workouts. You get another three sets of ear tips to select the one that fits you the most. The earbuds are comfortable and have a secure fit.
One of the very few earphones that comes with an IP rating in our list, Bose SoundSport, comes with an IPX4 rating making it water and sweat resistant. You don't need to worry about taking these outdoors with you for an adventure. Some splashes of water are not going to stop you from enjoying your time.
Taking a call, changing track, or accessing voice assistants are just a tap away, with embedded controls. SoundSport is very responsive to taps and will never disappoint.
Battery Life – Off a single charge, the earbuds give you up to 5 hours of battery. The charging case that is designed with built-in magnets not only keeps the earphones in place but can further charge the earbuds two more times. It is comparatively lower to other products on our list, but it is not entirely wrong.
Sound Quality – Bose has created these earbuds to work with a reliable and robust signal every time you use them. The sound is clear and compelling with the right amount of bass for every bass lover.
We had to mention an outstanding feature that Bose has for their earbuds. Every one of us is prone to losing our earbuds carelessly, and most of us have gone through that experience at least once.
Bose would not take the possibilities, and that is why 'Find My Buds' feature of the Bose connect app is here to help. With the use of the audio signal from your SoundSport earbuds, the app will locate it within no time.
Key Features:
Angled nozzle
Stayhear+ ear tips
IPX4 rating
5 hours of battery life
Find My Buds feature.
Verdict
Bose SoundSport offers clear sound, a secure fit, and is quite durable. LogicalShout recommends these earbuds for people who are into sports and adventure. They won't be worn out quickly, even throughout hard workouts, and will provide a comforting experience.
Pros
Fit and comfort
Balanced sound
IPX4 rating
Battery
Cons
No noise cancellation
Bulky design
Charging case only offers an additional 10 hours
---
8) Soundmagic TWS50
Soundmagic, founded in 2005, has been known for making a wide range of audio equipment that delivers classy performance at an affordable price. The Soundmagic TWS50 could be your choice to pick from the best Bluetooth earbuds for your needs.
Build Quality & Design – The first thing you would notice about the TWS50 are that they are incredibly lightweight, and we can safely say that these are one of the best comfortable earbuds you can ever use.
The earbuds come with an IPX7 rating, so you can even submerge it in water for a while, but we would never recommend it. One unique touch that Soundmagic brought along is the design of the charging case, a rather unusual circular design. There is a numerical battery indicator on the case, so never worry about knowing when to charge.
Battery Life – Soundmagic claims 5-7 hours of battery life on a single charge based on usage. The charging case can make the earbuds last up to 30 hours, so the battery is not going to be your issue on any given day.
Sound Quality – TWS50 is equipped with a high-performance Realtek 5.0 chip, a built-in audio decoder, and ACC supported coding technology bringing hi-fi sound with depth and precise details. The bass is deep and textured, and overall, the sound quality in these earbuds are above decent.
Key Features:
Realtek chip
IPX7 rating
5-7 hours of battery
Deep bass
Verdict
Soundmagic TWS50 offers actual value for money performance. If you are on a low budget, look no further as TWS50 caters to all your requirements, without compromising on quality.
Pros
Build and design
Battery life
Clear, detailed sound
Cons
Bass could have been better.
---
9) Oppo Enco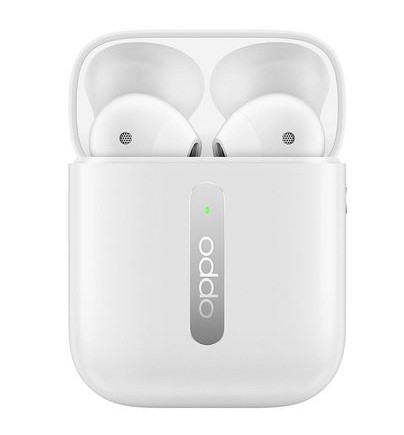 Oppo began their journey of exploring technology over a decade back, and today, they have come a long way. The truly wireless Enco seems like a rip off of the Apple AirPods. Still, they retail at a very budget-friendly price, and with decent performance, Enco makes its way into our list of Best True Wireless Earbuds in India.
Build Quality & Design – Oppo Enco has been dynamically designed for total wireless freedom, and with an IPX4 water resistance rating, the earphones can be considered very durable. Double tapping on the earbuds manages every control you will need, and the response rate is rather fast.
The earbuds with the silicone ear tips are quite comfortable, but there's a catch. There are semi-in ear tips for a better secure fit, and this smart design brings a balance of comfort and stability.
Battery Life – You get 5 hours of music playback with the earbuds and up to 25 hours with the 410 mAh charging case. The charging is fast, and the earbuds can last an entire day or more according to your usage.
Sound Quality – Enco features an ultra-dynamic speaker that delivers professional audio quality. The earbuds can be noticed using the FPC positioning system that are mostly seen in high-end audio equipment. The bass is dynamic, and you get studio-quality experience with these earbuds.
There is AI uplink noise cancellation to filter out every unwanted noise from your background to provide you with a seamless listening experience.
Key Features:
Ultra-dynamic speaker
5 hours of music playback
IPX4 rating
AI uplink noise cancellation
Verdict
Oppo Enco can be considered as an alternative to the Apple AirPods. They look very similar, and Oppo does not disappoint on the performance as well, we could go far to call it the best AirPods for android phones.
Pros
Build
Battery
Sound quality
Cons
---
10) Realme Buds Air
Realme Products are recognized for their style and performance at one glance. In India, Realme took the market by storm, launching the most affordable products in every segment, and the Realme Buds Air is one of the best pocket-friendly truly wireless options to go for.
Build Quality & Design – Similar to the Oppo Enco, and the Buds Air looks and feels like the Apple AirPods in every way. The build cannot be compared to the AirPods, but for the price, it seems worthy. There is support for voice assistants as well.
Battery Life – Realme Buds Air gives you 3 hours of usage on a single charge, and the case provides another 14 hours. Battery life is just average compared to most of the earbuds from our list.
Sound Quality – The buds include a 12mm dynamic bass boost driver with dual mic and noise cancellation for clear calls. The audio quality is decent, and with smart detection mode, you can carry them along with a sense of satisfaction.
Key Features:
12mm dynamic driver
3 hours of battery life
Voice assistant support
Verdict
For people out there who are crazy about Apple gadgets but find it hard to afford one, the Realme Buds Air and Oppo Enco are good options to choose from. The design is every bit copied, and performance is decent. We recommend Buds Air only if you want an AirPods look alike.
Pros
Smart wear detection
Noise cancellation
Build
Cons
Copied design
Average performance
---
11) CrossBeats Pebble
CrossBeats brings some of the best Bluetooth powered audio equipment in the market. The CrossBeats Pebble is a TWS earbud that is next on our list of best true wireless earbuds.
Build Quality & Design – The earbuds look elegant and premium with the copper coloured finish on the buttons. They are truly stylish, and there is a leather sling to the case to make carrying much more manageable.
The earbuds are lightweight, but the secure fit ensures that these can be your true friends at the gym or during workouts. The IPX6 rating further ensures its durability during High-intensity workouts.
Battery Life – With the charging case, the CrossBeats Pebble offers up to 20 hours of battery for your everyday music cravings. It comes with a Type C charging cable that fully charges the device under an hour, and the case has indicators to let you know about the charging status.
Sound Quality – Pebble has enhanced bass effects, with improved graphene drivers that ultimately produce deep bass. The earbuds have stereo and mono modes so you can pass the earbuds to your friends so they can tune in to the same level you are in.
Key Features:
Improved bass
20 hours battery
IPX6 rating
Mono and stereo mode
Verdict
Priced below Rs.5000, the CrossBeats Pebble is an impressive earbud. It looks premium, and battery life too is excellent. If you are looking for a reliable TWS earbud with an affordable price, we can recommend the Pebble without a doubt.
Pros
Battery
Build & design
Bass
Features
Cons
---
12) JBL C100TWS
JBL can be considered the most trusted brand in the country for audio products, and they rarely disappoint. The JBL C100TWS is the final pick on our list.
Build Quality & Design – C100TWS has the usual in-ear design with silicone ear tips. The buds fit well in the ear and won't slip out during activities. For the price, the earbuds from JBL are quite decent looking.
Battery Life – 5 hours of battery life with the buds and an extra 12 hours with the charging case is what the JBL C100TWS offers. The battery life is average, but you can cruise through a day if you aren't a continuous user.
Sound Quality – Comes with JBL's unmatched pure bass and signature sound that transforms every song into an immersive journey. The sound quality is defined and being an affordable product from JBL; it doesn't compromise much.
Key Features:
JBL signature sound
Deep bass
5 hours of battery
Verdict
Fans of JBL products can go for this very affordable offering. The C100TWS offers an overall decent performance, but for the price, the Oppo Enco offers much better internal specs and performance. We recommend the JBL C100TWS only if you are looking for a JBL signature sound.
Pros
Cons
No IP rating
Noise cancellation
---
Conclusion
With the lockdown in progress, many new launches have been halted. True wireless earbuds are gaining immense popularity, and soon there will be more options to choose from. As for now, these are the best ones you can buy in India.
Related Posts You May Like:-