Smartwatches are set to replace conventional watches in the long run. The more ease with which they work has proved to be convenient for a large section of people. Here, we present you with a list of best smartwatches under ₹3000.
A smartwatch can receive notifications from your phone and has features such as fitness tracking and media management. Such features have led to the overall growth of the smartwatch industries with brands like Amazfit and Noise being top contenders.
There are few best options to choose from; however, under the price point of ₹3000, features, like receiving calls or replying to messages, are mostly unavailable. Also, check out the best smartwatches under ₹2000.
Top 8 Smartwatches Under Rs.3000
These are the best smartwatches you can buy for the price point. All the smartwatches have been compared and ranked according to performance and user feedback to make it easier for you to choose.
1. Fire-Bott Talk Bluetooth Calling Smartwatch – Feature Rich Smartwatch
The Fire Boltt Talk is one of the best smartwatches under 3000 in India serving its purpose. By using this smartwatch, you can make and receive calls without having to reach for your phone. The watch is best recognized for its extraordinary health and smart features. In addition, it comes with a water-resistant rating of IP67 means that the smartwatch can withstand splashes of water.
Design & Build Quality – The Fire-Boltt Talk smartwatch is incredibly lightweight and comfortable to wear. It weighs just 60 grams. This watch is also IPX7 waterproof and comes with many sports modes. Furthermore, with its attractive design, the watch has a sturdy build quality. This device has a magnificent plastic rear panel and a metal case.
This Fire-Boltt smartwatch is available in three color options: black, green, and grey. It's a 44 mm bevel curved glass that provides a resolution of 240 x 280 pixels. Its stainless steel body with a silicone strap provides you with a Retro look. You can navigate conveniently with a single button on the side.
Display – From an aesthetic standpoint, the Fire Boltt Talk is strikingly similar to the Realme Watch S series. The device has a large screen and a round form factor. So, you'll be able to read your messages and push notifications on your smartwatch without any problems.
Display quality is quite good so that it hardly gets scratched if dropped from your hands. The screen is bright enough in direct sunlight, but there is no ambient sensor to manage brightness levels based on different lighting conditions.
Sensors / Features – The Fire Boltt Talk constantly monitors heart rate and reports the statistics every 30 minutes. While you can't change the recording time, this feature saves battery life without compromising the user's data.
This watch also measures blood oxygen saturation levels to know if there is a drop in blood oxygen saturation. Unlike driving, it records steps during walking, so it is a plus for a wearable device.
Furthermore, women can monitor their menstrual cycle duration, predict when their cycle will begin, and learn when they will ovulate. All you need to do is to enter the required details.
Your smartwatch can provide detailed sleep data that is also accurate. The app shows you a sleep quality score and a heart rate reading.
Although the Fire Boltt Talk can monitor Blood Pressure as well, a medical-grade device is more recommended.
Connectivity – With Fire Boltt Talk, you can pick up calls with just one touch. The watch should be within Bluetooth range of the smartphone, so you won't need to remove your phone when you are driving in a car or anywhere else. For this, the smartwatch has a microphone and speaker, which are loud and clear.
The company's 'Da Fit' app displays the health and activity data quite well, and it contains all of the company's data. Additionally, you can use the watch as a remote control for your smartphone's camera. The 'Da Fit' app also offers a month-view calendar.
Battery – The Fire-Boltt Talk has a decent battery life, powered by a 170mah battery that lasts for about four days between charges. With the device connected to your smartphone, you can measure your health and fitness data and make occasional calls hands-free. Even though this is well below the claimed 10-day battery life, it is still quite impressive for a device with such a large screen and a feature set at this price.
Key Features
Take calls with one tap
1.28-inch touch screen
Waterproof, 1 m, IP67
Dust-proof and scratch-resistant
Heart Rate Monitor
Blood pressure and SpO2 (Blood Oxygen) monitors
8 days of battery life
Verdict – Using your phone as a hands-free device is easy with the fire Boltt Talk thanks to its very similar design and function to most options in the budget smartwatch sector. This is how you can make quick calls on the go with this simple and effective method. Its additional fitness features such as step tracking, SpO2, and heart rate monitoring make it a worthwhile investment.
If you're looking for a smartwatch under the rupee, this is something you should definitely consider. The value at Rs. 3,000 is significant, especially considering the option of larger brands at this price. Also have a look at the best Fitness Bands under Rs.3000.
Pros
SpO2 Monitoring
Calling Support
An attractive look
Long battery life
Light Weight
Cons
There is no GPS
Voice assistance unavailable
---
2. Noise Fit Active Smart Watch – Best Fitness Smartwatch
Despite being a smartwatch in the traditional sense, the NoiseFit Active provides fitness and health tracking features that may make it stand out among competitors. This is another Best Smart Watch Under 3000 that includes functions such as heart rate and blood oxygen monitoring, exercise and sleep tracking, and the ability to display notifications from your smartphone right on your wrist.
Design & Build Quality – The matte finish of the dial, and simple black border let you focus on the screen. The bottom of the watch contains the charging contact points and the optical sensor for measuring heart rate and blood oxygen saturation. The casing of the NoiseFit Active is made from plastic, which makes it lightweight and comfortable, weighing just 45g.
The watch comes with a rubber 22mm strap; it's comfortable, waterproof, and replaceable with a standard 22mm strap fairly easily. In any water-exposure situation, the smartwatch is waterproof up to 5ATM, making it safe to wear.
Aside from this, navigation is entirely touch-based, so you can swipe and tap to move around and choose options.
Display – Taking a look at the display, it has a circular 1.28" TFT LCD display with 240*246 pixels. This display produces good color reproduction, and crisp text is easy to read. It is also bright enough to be used outdoors on sunny days, and you can also manually adjust the brightness.
Sensors / Features – The smartwatch comes with heart rate sensors. We also get everyone's favorite SpO2 sensors, which measure blood oxygen levels (only use for reference, not for diagnostic purposes.)
With a variety of features, you can keep track of your activities and get on with your day. There is also tracking available for women. You can track your menstrual cycle and set reminders for better self-care by logging in to your menstrual details.
It provides 14 sports modes along with auto sports recognition that lets you train, track, and see where you stand. You can manage your active life from anywhere with this device.
This exclusive smartwatch comes with a blood oxygen monitor. As low oxygen levels indicate underlining health issues. You can track your oxygen intake and make changes to maintain it at its optimum level with a blood oxygen monitor.
You can monitor your heart rate 24/7 with the Heart Rate Monitor. Monitor your resting heart rate and be notified when it goes above normal levels.
Your physical health is adversely affected by interrupted sleep. You can determine your deep sleep and light sleep cycles with the sleep monitor, along with your wake time, and make changes to improve them.
Connectivity – The device came with Bluetooth 5. o and is easily paired with Android and IOS devices. However, you have to download an app on your smartphone.
You can pair the NoiseFit Active with the NoiseFit app, available for both Android and iOS devices. The pairing process is quick and easy. By pairing, you can adjust settings, change watch faces, check fitness and exercise tracking charts, and update the firmware of the smartwatch.
Battery – NoiseFit Active's battery life is exceptional for a budget smartwatch, with its 320mAh battery running the device for seven days without a charge with regular usage. Being always connected to the paired smartphone, it takes around three hours to fully charge the NoiseFit Active. It even recommends that you shouldn't use a fast-charging adapter to avoid damage to the battery.
Key Features
Bluetooth 5.0
1.26" Touch Display
Water Resistant up to 1.5 m
Scratch Resistant
Monitors Heart Rate
SpO2 (Blood Oxygen) Monitor
Sleep Monitor, Step Count, Calorie Count
Alarm Clock
Verdict – Although it is an excellent watch for health check references and workouts, it lacks a GPS feature, which is the only disappointment. This smartwatch costs Rs. 3,999 in India and is surely a great choice for the price since it has a sturdy design and excellent quality. Without having a second thought, you can go for its amazing features.
Pros
Excellent design and comfortable
5ATM water resistance
Decent app interface
Appropriate heart rate and SpO2 tracking
Long battery life
Cons
The pedometer is less accurate
The charger doesn't fit onto the watch securely
---
3. Noise ColorFit Qube Smartwatch – Value Packed Smartwatch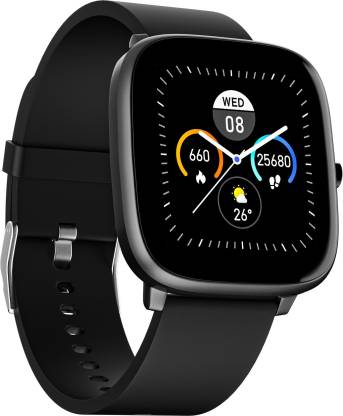 Noise ColorFit Qube Smartwatch is worth mentioning in the list of Best Smart Watches Under 3000. Monitoring your health goals becomes easier once you have this ColorFit Qube Smart Watch (GPS, 35mm). With its stylish design, it is both durable and sporty at the same time. You can monitor your activities with this smartwatch and continue to get going.
Design & Build Quality – With a square-shaped dial and a crown button on the right side of the device, Noise Qube has a minimalist design. Noise appears to have taken inspiration from Fitbit Versa for the Qube. According to the company, the watch is designed with soft silicone straps that are comfortable and lightweight.
Display – Noise ColorFit Qube features a square display measuring 1.4-inches in diagonal and with 240 x 240 pixels. Besides the curved display, the device also features a TFT screen. As part of the companion application, the smartwatch also has support for cloud-based watch faces, so you can choose from multiple collections. There is a single button on the side of the watch.
Sensors / Features – The Noise ColorFit Qube provides a 24-hour heart rate monitor to keep an eye on your vital signs, and the company even claims that it can also measure blood pressure. Notably, the wearable does not include a SpO2 sensor.
Apart from this, you'll also get the usual collection of features, such as calorie counting, sleep monitoring, distance tracking, and exercise tracking. It is also able to track multiple sports modes, including climbing and cycling, as well as walking, running, hiking, and yoga.
Using the built-in optical HR sensor, you can monitor and control your health. When it gets too much, you can just take a deep breath and unwind. The Noise ColorFit Nav Plus Smart Watch (GPS, 35.56mm) is a great smartwatch with features such as breathing mode and 24/7 heart rate tracking. Furthermore, it has a capacitive sensor, an accelerometer sensor, and a gyroscope sensor for effective use.
This smartwatch also offers other smart features like reset SMS replies Call Rejection, Find my Phone Feature, Sedentary and Low Battery Reminder, Remote Music and Camera Control, Calendar Reminder, Weather Forecast, Stopwatch, Google Fit, Timer, Alarm, Wake Gesture, Vibration Alert, Do not Disturb Mode, Screen Brightness, Wrist Orientation, and OTA upgrade. They all contribute to making it a great choice.
Connectivity – The Noise ColorFit Qube uses Bluetooth 5.1 for connectivity and works with Android and Apple devices via the NoiseFit Track app.
Battery – On the battery front, the company states that the Qube has a 180mAh battery, which it claims can last up to 7 days on a one-time charge. The device takes about 2.5 hours to fully charge.
Key Features
A multisport mode
Waterproof to IP68
Smart features like Stopwatch, Weather Forecast, Timer, Alarm, Find my phone
NoiseFit Track App to monitor your fitness goals
Sport and Fitness
Battery life: up to 7 days
Verdict – This is an ideal smartwatch under the affordable price category that gives us a range of promising features. In terms of build quality and appearance, this smartwatch is an idle buy. It costs just a sum of Rs. 2,499.
The watch works seamlessly with all devices and is IP68 water-resistant, so we can use it while swimming. For those who want a smartwatch for everyday use within a budget price range, this is the perfect smartwatch to buy.
Pros
Monitor SpO2
Long battery life
Multiple sports modes
A continuous heart rate monitor
Waterproof to IP68
Cons
GPS not available
Inaccurate Accuracy
---
4. boAt Strom Smartwatch – Reasonable Purchase
boAt Strom Smartwatch is a great fit for the Best Smartwatch Under 3000. Due to its great quality, features, and reasonable price, the BoAt Storm Smartwatch has been quite popular in the Indian Market.
Design & Build Quality – This smartwatch has a simple and clean design, which is sure to appeal to buyers who are looking for something simple. There are some interesting color combinations as well. Even though the watch case is made of plastic, it doesn't look cheap at all. This watch has all the sensors on the rear panel, which is matte and has a soft finish. This exclusive boAt watch comes with a detachable silicone strap.
The display size is quite large, with thin bezels around the corners. The good thing is that the scratches and fingerprints are not easily visible on the display. You can easily access the watch's menu with the crown button located on the right side of the case.
Display – The BoAt Storm Smartwatch has a display resolution of 240 x 240 Pixels giving better clarity. With its curved display and classy design, it makes a very sophisticated fitness accessory that matches your other accessories as well. This watch has many watch faces to choose from. These can be changed depending on which features you are using.
Sensors / Features – It has an excellent heart rate sensor that tracks your active and resting heart rate accurately. The smartwatch is water-resistant too, so you can dip into the pool effectively and easily. When it comes to high-intensity workouts, this smartwatch can help you achieve your exercise goals. It offers up to 8 different fitness modes. Additionally, you can track your fitness goals and steps taken using the step and calorie calculator.
In terms of blood pressure and blood oxygen levels, BoAt Smartwatch Storm is more or less accurate. Furthermore, the manufacturers offer guided meditative breathing exercises that relieve stress and calm you. Now you can keep track of the health information on your wrist with this fitness watch.
Although, it lacks a calling feature yet this smartwatch allows you to be notified about calls. This decent smartwatch also allows you to control your music. You can set alarms to receive calendar notifications and notifications from other apps such as WhatsApp through the smartwatch.
Connectivity – In terms of connectivity, it comes with Bluetooth 4.2 and is compatible with Android devices running 4.4 or higher and iPhones running iOS 8.0 or later.
In order to use the watch, you'll need to download the boAt Wave mobile app and pair it with the smartwatch.
Battery – This BoAt smartwatch has a battery capacity of 210mAh. To completely charge it, it takes 2.5 hours. To give you an idea of how long the watch lasts, it has a standby time of 20 to 30 days.
If you charge your smartwatch fully, you can use it for up to 10 days without losing charge. Due to the battery capacity of this Lithium Polymer, you can either run through the different sports modes.
Key Features
SpO2 Monitor
The menstruation tracker
Optical Heart Rate Sensor
Supports iOS and Android
Six color variations
Up to 5 ATM water resistance
Verdict – With its amazing smartwatch features at an affordable price, the BoAt Smartwatch Storm is one of the best smartwatches available today. With its advanced smartwatch features, it offers blood oxygen monitors, blood pressure monitors, and heart rate monitors that accurately track your heartbeat throughout the day, 24-hours a day and 7 days a week.
A BoAt Smartwatch Storm retails in India for around Rs. 2999. In brief, if you have reasonable fitness and health needs, this smartwatch is a reasonable purchase.
Pros
Reasonable Price
Smart Design
SpO2 Monitor
8+ Sports Modes
Water Resistant to up to 5 ATM
Menstruation tracker
Cons
No built-in GPS
Cellular service is not available
---
5. boAt Xtend Smartwatch – Best Budget Smartwatch
boAt Xtend Smartwatch is another budget-friendly exclusive tech product out there that offers all the features of a basic smartwatch. In addition to that, it has a built-in Alexa, which gives it a unique advantage over other cheap smartwatches on the market.
Design & Build Quality – There are some similarities between the boat design and the Apple Watch 3. Obviously, there can be no comparison between both.
There is water resistance of 5ATM on the watch. This watch has Silicone straps that are quite comfortable. With regular use, the straps will become more comfortable, as they are made of good quality materials.
Display – In terms of display, the watch features a 42mm square display. Although the screen has large bezels, the good news is that when the screen is off, the bezels are completely hidden, so you won't notice them, and the screen quality won't feel cheap. Despite the lack of an always-on display, this is not a concern. Watch features an on-screen timer of up to 20 seconds and brightness control of up to 12.
One of the cool things about this smartwatch is the watch faces it comes with. It comes with over 100 watch faces, and there will probably be more to come. Additionally, you can customize the watch face as well.
Sensors / Features – The watch features basic health features such as daily activity information such as steps walked, calories burned, time, heart rate, sleep tracking, SPO2 training, stress tracking, meditation, find my phone, and music controls.
The fact to consider is that the smartwatch shows accurate results. Additionally, there are 14 different support modes on this watch. You will be informed of incoming calls, messages, and various other notifications clearly.
Its main selling point is its Amazon Alexa support. The watch consists of an in-built microphone, that you can access by long-pressing the back button. However, note that you can only set an alarm, create a timer, etc. with Alexa on the watch.
Connectivity – To use the watch, download the Boat Wave App, which is available for both Android and iOS devices. You won't see any bugs with the app, and it works perfectly. I haven't noticed any problems with connectivity such as frequent disconnections. The Boat Wave app has a clean and simple interface, featuring all fitness-related options and all watch settings.
Battery – This watch features a 300mAH battery, whose company claims it lasts 7 days, but if you're using most of the features, this will only last about 2 1/2 days. If you keep the brightness low, this will last about 3-4 days. It even has the magnet hook charging support.
Key Features
Accuracy in trackers and monitors
Breathing & Menstruation Tracker
Metal Body Case
5ATM Water Resistance
Vibration Alerts for Notifications
Fitness & Outdoor
Battery time up to 10 days
Verdict – Boat Xtend Smartwatch is a worth money smartwatch from the Boat. It consists of all the prominent fitness features that a budget fitness tracker should have, a good display, Alexa support, trackers, good design and build, and much more.
If you want a good Smartwatch Under 3000 and you are okay with the battery life and the color scheme, then this boAt smartwatch is the option to go for. You won't repent a single penny. Have a look at the best monitor under Rs.10000.
Pros
Good build and design
Various watch faces
Decent accuracy
Comfortable
Clean watch UI
All Basic Fitness Features
Cons
Color scheme
High Price
Average battery life
---
6. Noise ColorFit Pro 2 Smartwatch – Decent and Comfy pick
The Noise ColorFit Pro 2 is a successor to Noise ColorFit. The device features a color touchscreen, improved fitness tracking modes, and improved measurement accuracy (compared to Noise ColorFit). Its exclusive features make it an irresistible product to get under Rs. 3000.
Design & Build Quality – The Noise ColorFit Pro 2 features a minimalist design and a large square-shaped dial. Touch is supported by the Pro 2, and the settings and modes can be accessed by swiping it to the left. There are three colors to choose from Teal Green, Jet Black, and Mist Grey. These silicone straps provide comfort and adjust easily so that even the tiniest wrists can be accommodated.
Display – In common with other smartwatches, the Noise ColorFit Pro 2 features a square-shaped dial with curved edges. colorful Pro 2 comes with a stylish and elegant full capacitive touch screen with a 1.3″ color display. With a fully capacitive screen, you can read the watch face under sunlight and control it with simple taps and swipes.
Watch faces look great on the smartwatch since it has a large color display. You can choose from a number of cloud-based watch faces that can be combined with the strap color for a stylish overall look.
Sensors / Features – This smartwatch from Noise is equipped with many sensors, making it among the best affordable smartwatches on the market. A unique feature of ColorFit Pro 2 is its optical heart rate sensor, capable of 24/7 monitoring of your heart rate. Other than that, the watch is equipped with a pedometer, accelerometer, and gyroscope for tracking daily fitness activities.
By combining the collected data, the Noise ColorFit Pro 2 can also measure sleep cycles. If you are a sports enthusiast seeking a fitness tracker, this watch has 9 sports modes, such as running, walking, and yoga. Additionally, the manufacturers have added a breathing mode that guides you to take deep breaths in order to reduce stress and stabilize your heart rate.
The smartwatch notifies about incoming messages, calls, and other social media updates. On the screen, you can see the caller's name and a call reject button. The straps come in six different colors ranging from cherry-red to royal blue. Another unique feature of the affordable smartwatch is its ability to track a woman's menstrual cycle.
Connectivity – It works with both iPhones and Android devices running iOS 8 and above as well as Android 4.4 and above. You can set up the Noise ColorFit Pro 3 using a companion mobile app, which also gives you detailed sleep cycle analysis, connects to Google Fit, and lets you keep track of previous workouts and fitness goals.
Battery – Noise ColorFit Pro 2 boasts a battery life of about 10 days, an improvement over its predecessor Noise ColorFit Pro, which runs for 7 days on normal usage (without continuous heart rate monitoring).
Many trackers these days offer up to 15 days of battery life. As smartwatches offer more features than trackers, we believe the battery life of the Noise ColorFit Pro 2 is up to industry standards.
Key Features
10 days of battery life with a magnetic charger
Monitors menstrual cycle
Monitors heart rate
IP68 Waterproof
Color touchscreen
Verdict – Noisy ColorFit Pro 2 replaces the predecessor ColorFit Pro 2 in a worthy manner. The app came up with some unique features, including menstrual cycle tracking. Nevertheless, it could be improved. In this price range, customers would love to see features such as anti-fingerprint coating, in-built GPS, more watch faces, Bluetooth compatibility, etc. Overall, it's a good buy for the price of Rs. 2,799.
Pros
Water-resistant smartwatch rated IP68
Stylish & lightweight
9 different sports modes
Sedentary alarm, heart rate monitoring
Women's cycle tracking
High-quality display
Cons
Watch bezels are quite large
Battery life is just okay
---
7. Noise ColorFit Pulse Smartwatch – Budget-Friendly Choice
Noise ColorFit Pulse Smartwatch is among the Best Smartwatches Under 3000 in India 2021. The device has a smart SPO2 meter and several sports modes, making it a budget smartwatch. The display is slightly larger and a bit more centralized than on Noise ColorFit Pro 2.
Design & Build Quality – Noise ColorFit Pulse looks very much like most smartwatches in its category, including those that have a button on the right side and rectangular dials. There are a variety of strap colors available on the market. In addition to the SPO2 sensor and heart rate sensor, the backside of the dial has other branding and a pulse sensor.
The dial is much lightweight and the rubber strap is so comfortable. With its small dial size, it fits perfectly on a wrist of any size.
Display – With a resolution of 240*240 pixels, the Noise ColorFit Pulse offers a 1.4′′ LCD Touch Screen Display. Although the LCD screen is not very bright in outdoor sunlight, it can be seen clearly and is functional. There is a thick bezel around all four sides of the screen, making the display centralized. Dimensionally, this display is not bigger than the Noise ColorFit Pro 2. Aside from this, the touch screen is very responsive.
Sensors / Features – Noise ColorFit Pulse features 8 different sports modes. They are running outside, walking outside, cycling outside, hiking, trekking, and indoor running, and indoor cycling. You can track your daily activity on the go with these fitness and sports modes for indoors and outdoors. As soon as you attach the NoiseFit App to the watch, your progress is automatically tracked and noted on your record.
It is equipped with SpO2 sensors, Heart rate monitors, and Sleep monitors. These wellness partners allow you to monitor your health throughout the day.
In order to get an accurate reading from the SpO2 monitor, you should hold on for a few seconds, and the sensor must be placed correctly on the hand to ensure its accuracy. The sleep monitor and the heart monitor also work correctly.
You can receive and check out many different notifications, such as incoming calls or text messages from various apps. The notifications are prompt, and the phone needs to be connected via Bluetooth to receive them. The smartwatch gives a smooth vibration when a new notification is received or when any other milestone is reached.
Connectivity – There is a very clean user interface on the Noise ColorFit Pulse smartwatch, making it very easy to locate each feature. Additionally, NoiseFit App is the dedicated app for this smartwatch, and it can be accessed by scanning the QR code located on the watch. By using this app, you can keep track of all your activities as well as personalize your watch to some degree.
Battery – Noise claims that the watch can last for 10 days on a full charge. Even with continuous heart rate monitoring, doing daily tasks, and receiving notification alerts, the battery backup time can be shortened to almost 8 days in practical use.
This magnetic charger for the Noise ColorFit Pulse is very convenient since it hooks onto the back of the watch and charges it. From a completely discharged smartwatch, it takes almost 2 hours for the battery to fully recharge.
Key Features
Heart rate and blood oxygen levels tracked all-day
Supports 8 sports modes
Dustproof and waterproof IP67
Alarm clock and call reminder
Music control
Notifications for incoming calls, messages, and all other apps
Verdict – The new ColorFit Pulse app from Noisy seems like a proper upgrade from ColorFit Pro 2. If you can grab it for Rs.2,499, this smartwatch is the most reasonable smartwatch if you want features such as SpO2 monitoring and sleep monitoring. The battery life is excellent and the user interface has been improved.
Pros
10-day battery life is possible
Fast Charging
Cloud-Based Watch Face
Fitness Tracking
Alerts for notifications
Compatible watch straps
Resistant to Water
Cons
There is no microphone
Voice Assistant not available
---
8. Dizo by Realme – Runner Up Smartwatch
Realme's TechLife brand launched the company's first watch in India recently, the DIZO Watch. As far as specs go, it includes 90 sports modes and SpO2 monitoring, and it also has the same price as the Realme Watch 2. With its unique features, this Realme Dizo Watch gives you a unique combination of style and functionality that keeps you in the know.
Design & Build Quality – The watch comes with customizable straps that look great. The silicone straps make the watch look even more elegant as they are made of silicone. This Dizo watch comes in two stunning two colors: Silver and Carbon Grey.
Display – This exclusive Dizo Watch is equipped with a 3.5cm (1.4″) touchscreen. This screen has a resolution rate of 320 x 320 pixels. It is capable of producing up to 600 nits of brightness. Therefore, even in bright daylight, the screen looks very good.
The display also features HD resolution at 323 PPI with a refresh rate of 30 frames per second. Consequently, the watch produces a vivid display with great colors.
Sensors / Features – The Dizo smartwatch is the perfect fitness tracker for multi-sport enthusiasts, who can track any of the sports activities that they choose to partake in. It also allows you to record daily and weekly exercise durations as well as calorie consumption based on any exercising mode. It can also detect the level of blood oxygen in your body. Furthermore, the Dizo comes equipped with smart features that set it apart from other watches.
The DIZO Watch provides 90 workout modes that include, Outdoor Run, Outdoor Walk, Outdoor Cycle, Indoor Run, Strength Training, Rowing Machine, Elliptical, Football, Basketball, Cricket, Badminton, Jump Rope, Yoga Free Training, and VO2max Test. Moreover, the user interface looks good and runs very smoothly.
This Dizo SmartWatch also offers some smart features that include caller ID, call notifications, weather updates, media playback, and notifications mirroring. Aside from Bluetooth 5.0, the phone features sedentary reminders, drinking reminders, an IP68 rating, and finding my phone. Isn't that amazing?
Connectivity – In terms of connectivity, this smartwatch features a low-power consumption chip and Bluetooth 5.0 connectivity.
Battery – Your favorite Dizo smartwatch is powered by a 315 mAh battery which is all set to withstand everyday usage. Apparently, the watch can withstand a lot of daily use for up to 12 days. The watch can provide a full 10-day battery backup with a full charge and average daily usage. Another fascinating thing is its magnetic charger that is also a premium build product.
Key Features
Precise Health Monitoring
The Realme Link App enables smart AIoT control
Water Resistance of IP68
The music controls
Weather Forecast
Upgrades via OTA
Message Reminders
Notifications of calls
Verdict – With a price tag under Rs. 3500, the DIZO Watch is a decent smartwatch. The watch features a bright touch screen and many watch faces, as well as heart rate and SpO2 monitoring, and offers long battery life. It would be better with smaller bezels and auto-brightness adjustment.
Pros
Monitors the heart rate
SpO2 monitoring
High-performance battery
Comfortable and lightweight
GPS tracking and workouts
Cons
Messages and calls cannot be made
Delay in notifications
Strap becomes sweaty after prolonged wear
Chargers must be carried
---
Conclusion
Well, it's not easy to decide which smartwatch is the best for you. They all like to have different features that may suit your lifestyle. The Noise ColorFit Pro 2 consists of a heart rate monitor that will track your sleep and runs. The Fire-Boltt Talk tracks your blood oxygen level & heart rate in real-time throughout 24 hours a day.
The boAt Xtend Smartwatch has a built-in GPS, long-lasting battery life, and so on. Fire-Boltt also offers calling features. So, examining all, make a list of features that fits you, and get a smartwatch that matches your preferences. These are very good options to choose from based on the price range they come in.
All smartwatches have their own benefits. If you are looking for a complete health tracking- system with various sports, heart rate, and menstrual cycle trackers? Then go for Noise ColorFit Pro 2. Wanna monitor your oxygen level during this pandemic? The Fire-Boltt SpO2 is the option to go for. Long battery life and a GPS is your priority? You can go for boAt Xtend smartwatch.
So here we conclude our article on the Best Smartwatches under Rs. 3000 in India you can buy online.
We hope you liked our list of the best smartwatches in India that helped you make an informed choice to buy the best affordable smartwatch.
Don't forget to share this article with your family and friends on social media if you enjoy reading it and find it useful.
In addition, if you have any suggestions or inquiries about this article, please let us know below in the comment section, and we will try to respond as soon as possible.
You May Like to Know:-