In recent years, the way in which we consume media has evolved significantly. Due to this evolution, headphones have become strongly linked with music. Even if you are not an audio professional, a great pair of headphones can significantly enhance your audio experience.
Headphones can not only be used to listen to music, but they can also be used to watch movies and tv shows. It allows our entertainment to be more convenient and portable than ever before. Headphones are a brilliant innovative technology that allows us to enjoy our entertainment experience on the go.
Since there are a multitude of headphones on the market, if you want to buy the best headphones under 5000, you have to do a considerable amount of research. We have decided to make your work easier. So, we made this list for you.
Best Wired Headphones Under Rs.5000
There are numerous factors such as build quality, sound quality, and features that make a headphone good. You are looking for the lower budget then check out best wired headphones under Rs.3000 and Rs.2000.
1) Audio Technica ATH-M30X
Audio Technica is a Japanese company that has gained a lot of popularity for its high-end audio equipment. Many of their headphones are used by professionals in recording studios.
The brand is well known for combining modern engineering technology with a durable build. This headphones from Audio Technica offers some minor improvements over its predecessor, the ATH-MH20X, which was already a fantastic headphone.
Build Quality and Design – The M series headphones from Audio Technica are critically acclaimed for their build quality. This headphone uses pro-grade materials and is extremely durable.
Its contoured earcups provide the utmost comfort and create a tight seal around your ear for excellent sound isolation. It has a very simple yet functional design that is preferred by many top audio professionals. It is also collapsible, so it is easy to carry.
Sound Quality – The ATH-M30X has been custom-tuned for a highly detailed strong mid-range audio. Though this headphone has been designed for studio mixing and tracking, it has very versatile listening settings and can be used for a variety of purposes.
Due to its excellent noise cancellation, there is a minimal bleed in the sound. The overall sound quality is very crisp, detailed, and even the background music can be heard very clearly.
Key Features
40mm Neodymium Drivers
Pro-Grade Build
Custom-Tuned for Mid Excellent Range Definition
Circumaural Design
Passive Noise Cancellation
Verdict – The Audio Technica ATH-M30X has an elegant design that resembles many professional-grade headphones. It also has crystal clear audio and excellent noise isolation. But to get the best audio experience, you will have to tinker with its equalizer. This is one of the best headphones under 5000.
Pros
Outstanding Sound Quality
High Definition Audio
Excellent Sound Isolation
Premium Build
Comfortable Design
Cons
The cable is Not Detachable
No Microphone
---
2) Audio Technica ATH-M20X
Just like its successor ATH-M30X, ATH-M20X also has a very sturdy build and fantastic sound quality, but it is not as expensive as the M30X. The design and features offered by both these headphones are quite similar; however, there are a few minor improvements in the M30X.
Let us have a look at the differences between the two models and try to understand if these differences are worth paying a premium of approximately Rs. 1500.
Build Quality and Design – Just like its sibling, even the M20X has a very trendy design, with soft earcup cushions that are incredibly comfortable. It also has the same noise isolation capability.
However, the design of the M30X is a little more comfortable to wear and looks much more premium and professional. Nevertheless, even the M20X is a very well-built headphone that uses premium materials.
Sound Quality – These headphones are designed with aluminum wire coils that increase the sensitivity of the speakers and enhance sound quality. With its noise isolation, you will be able to enjoy an immersive audio experience even in loud environments.
It has the same 40mm neodymium drivers as the M30X, and it is custom-tuned to improve low frequencies. It delivers an evident audio output with minimal distortion.
Key Features
Advanced Build Quality
40mm Neodymium Drivers
Tuned for Low-Frequency Performance
Circumaural Design
Single Cable Exit
Verdict – The ATH-M20X is an outstanding headphone that has a premium build and excellent audio performance. Its successor, the ATH-M30X, looks a little more professional and has better mids, but if you do not care much about that, then save some money and buy this instead as it is one of the best over-ear headphones under 5000.
Pros
Sturdy Design
Balanced Lows
Comfortable
Minimal Audio Leak
Excellent Audio Quality
Cons
Heavy Design
Not Comfortable During Long Sessions
---
3) Sennheiser HD 400s
The Sennheiser HD 400s are a fantastic pair of headphones that rivals premium headphones from brands such as Sony and Bose, and yet, it does not break your budget.
This headphone boasts some great features, and it even has an inline microphone that will allow you to answer phone calls and take your work on the go.
Build Quality and Design – The entire body of the Sennheiser HD 400s is made of high-quality polycarbonate material. This material makes the headphone very flexible and lightweight.
The headband also has a very soft cushion and has a more compact design. Even the earcups have soft cushioned padding that provides an excellent noise isolation experience. The cables are also tangle-free.
Sound Quality – The HD 400s features a 32mm custom speaker driver and delivers enhanced audio performance. The headphones also have a very low impedance rating, so the driver has to overcome very little resistance for producing sound.
The headphones have good bass and very well-balanced mids and highs. It also has a one-button remote with a very high-quality microphone.
Key Features
18 Ohm Impedance Rating
Built-in Microphone
Foldable Design
Lightweight
Verdict – The Sennheiser HD 400s is one of the best headphones under 5000 that you can buy today. It is an affordable headphone that has a durable build and excellent audio quality.
Pros
Good Audio Quality
Lightweight
Foldable
Comfortable
Noise Cancellation
Cons
Average Microphone Quality
---
4) Sennheiser HD 300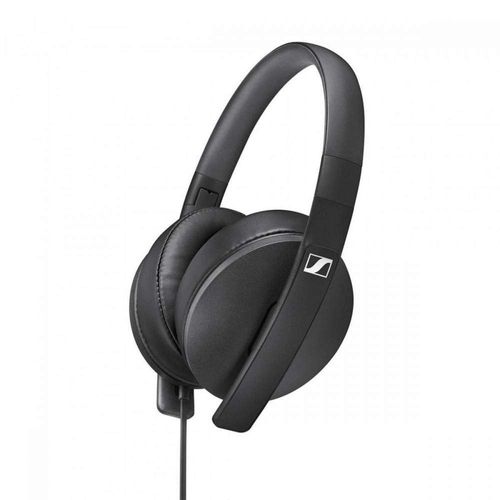 The Sennheiser HD 300 is a great affordable headphone offering from Sennheiser. Like all headphones from Sennheiser, this one too meets the expectations of high quality and a durable build that we all have from the brand.
Build Quality and Design – The design of the Sennheiser HD 300 is quite similar to that of the HD 400s. Its frame is a little smaller, and it is also lighter. Many users have reported that the earcups of the HD 300 are more comfortable than the HD 400s.
Therefore, these headphones can be worn for long hours without any discomfort. However, since the earcups do not offer a seal as tight as the HD 400s, its noise isolation is not as good. As the headphones are foldable, they are also easy to carry.
Sound Quality – Though the HD 400s is the more expensive model, users have reported that the bass of the HD 300 is more tempered and sounds more natural. Even though its lows are quite neutral, they are well separated from the higher frequencies.
One of the best parts about this headphone is that it has a very clean and well-delineated audio output of instruments. Listening to tracks with a layering of instruments with this headphone is a joy.
Key Features
Foldable Design
Well-Balanced Sound
Passive Noise Isolation
Verdict – For people that want to listen to various genres of music, the Sennheiser HD 300 will get the job done. The only downside of this headphone is that it does not have a microphone. But in terms of audio quality, it is the best headphones under 4000.
Pros
Excellent Audio Quality
Noise Isolation
Foldable
Very Comfortable
Great Bass
Cons
---
5) HyperX Cloud Stinger Headset
The HyperX Cloud Stinger is a pair of headphones that is made by gamers for gamers. It has tons of features that enhance a gamer's gaming experience and make their lives more convenient.
Build Quality and Design – At 275 grams, this headphone is certainly heavier than most headphones on the market. But this is not a regular headphone, it is a gaming headphone, and when compared to other gaming headphones, the HyperX Cloud Stinger is one of the lightest options in the market.
The headphones are incredibly comfortable on your neck, and the earcups rotate at a 90-degree angle for a better fit. It also has a custom memory foam for the most comfortable gaming experience. This headphone is ideal for prolonged gaming sessions.
Sound Quality – This headphone has 50mm directional drivers that position its sound directly into the ear. It delivers high precision, gaming-grade sound quality. The audio has no distortions, even at high volumes. The sound can be easily turned up or down using the volume slider located on the bottom of the right cup.
The Cloud Stinger headset also has a noise cancellation microphone that can be muted by conveniently flipping it vertically. The noise cancellation is excellent and offers a much clearer voice quality by reducing background noise. These headphones are compatible with multiple platforms such as PC, Xbox One, PS4, and mobile devices.
Key Features
Rotating Earcups
50mm Directional Drivers
HyperX Memory Foam
Volume Slider
Noise Cancellation Microphone
Multi-Platform Compatibility
Verdict – The HyperX Cloud Stinger is an amazing headphone for gamers. It sounds excellent and has excellent features. This is one of the best gaming headphones under 5000 and is a highly recommended purchase for gamers.
Pros
Highly Detailed Audio Quality
Extremely Comfortable
Intuitive Volume Control
Swivel to Mute Feature
Cons
Frequent Sound Leaks
Not Loud Enough
---
6) CORSAIR HS50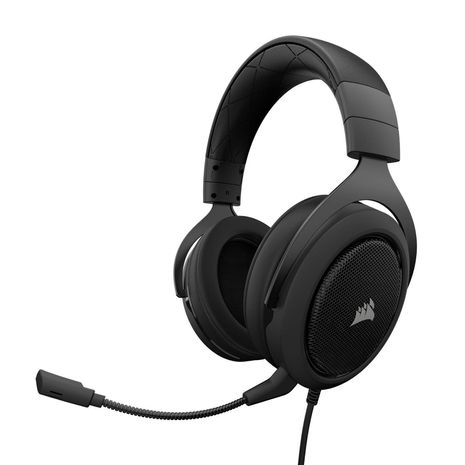 Corsair HS50 is a good gaming headset with excellent sound quality. It is nearly identical to its successor, the HS60. They are very similar for the most part, but they have a few minor differences.
Build Quality and Design – Corsair is a well-known gaming brand; therefore, the build quality of this headphone is excellent. Just like the HS60, its design is very simple and straightforward. In our opinion, its design is too simple for a gaming headset. It does not have any LEDs or RGB lighting.
This headphone is quite comfortable, but after prolonged use, it starts to feel a little tight. The HS50 is not the most comfortable gaming headphone, but it is passable.
Sound Quality – The HS50 features a custom-tuned 50mm neodymium driver that delivers an immersive audio experience. It allows you to hear even the most minute details during gameplay.
The headphones also have a volume dial on the left earcup, which is very convenient in adjusting the volume during gameplay. However, it does not have an inline remote.
Key Features
Memory Foam Earcups
Rugged Build Quality
50mm Neodymium Drivers
Detachable Microphone
Multi-Platform Compatibility
Verdict – The Corsair HS50 is a decent pair of headphones that does most things well, but there is nothing really special. Many headphones in this price bracket do the same things and much more. This headphone is alright, but you can do better.
Pros
High-Quality Microphone
Excellent Build Quality
Cons
No Inline Microphone
Low Breathability
Poor Noise Isolation
Inconsistent Bass
---
This concludes LogicalShout's list of the best headphones under 5000 in India. A lot of research and trials were conducted before making this list, so you can be sure that the regular headphones and gaming headphones featured on this list are the very best headphones that you can buy right now.
Related Posts You May Like:-