Headphones are the best option if you are someone who gets immersed in the world of sound for a long time. Not everyone is comfortable with using an in-ear earphone. Over-ear headphones are more premium when it comes to performance and build. People have real concerns regarding this as over-ear headphones are usually more pricey.
When it comes to buying a budget headphone, there are many areas where people get confused. Many top brands offer entry-level headphones, but rarely are they any good. This is why Logicalshout wants to help users select better and wiser.
We bring you the list of best headphones you can buy just under Rs.1000. Our inventory includes products from various top brands and each with their own set of unique features that appeal to your demands.
Best Wired Headphones Under Rs.1000
The list has been put together by Logicalshout after hours of research and comparison. So get reading and choose your best pick with our help. Also, check out the best headphones under Rs.2000.
1) boAt BassHeads 900
In 2016 a Delhi based startup company came into the field of Electronics with the sole intention of providing products that have top quality and being budget-friendly at the same time.
This Brand does explicitly incredible work for the youngsters to experience the best which they deserve. boAt BassHeads 900 is our top pick for the Best Headphone Under Rs.1000.
Build Quality & Design – boAt has stuck with the lightweight design in the boAt BassHeads 900, just like many of their other models. When it comes to a brand like a boAt, they first cater to the customer's convenience and believe us when we tell you that carrying these headphones around would not be a problem as they are very sleek and compact.
The headphones have an adjustable fit, the ear cups are soft, and you can use them whether its for tuning into music, watching a movie or just for games. The earphones are also foldable, and yes, we think exactly as you do, and we know for the reason that it makes portability much more manageable.
There is an in-line microphone and buttons for calls and music control. The snug fit also makes way for passive noise isolation, and so your requests will be more audible.
Sound quality – boAt has never really failed to provide quality music regardless of the price of their product, and the BassHeads 900 continues the legacy. The sound quality is impressive for the price.
While using the headphones, you will realize that the sound is powerful and profound, all thanks to the 40mm Neodymium driver. The super extra bass is punchy and bright, and overall you get to experience a balanced natural sound.
Key Features:
Lightweight
40mm Neodymium driver
Super Extra Bass
Verdict
boAt BassHeads 900 is a very underrated headphone. They offer high audio quality, and the design too looks classic. The lightweight build is prone to many issues; mainly, the headphones would not last long with rough daily use. Leaving that out, boAt BassHeads 900 is still the Best Over-Ear Headphone Under Rs.1000.
Pros
Sound Quality
Lightweight
Bass
Noise isolation
Cons
Not very durable
Not comfortable for more prolonged use
---
2) Sony 310AP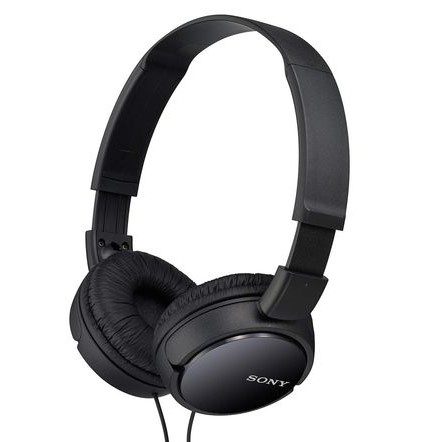 It's been 74 years since this Brand has stormed into the market and also into the hearts of the users. Sony is adamant about the elite quality it hosts, which has helped them slowly to stay as one of the bests in this field. The Sony 310AP fits precisely into what Sony is; the headphones offer immersive audio experience.
Build Quality & Design – These are the kind of headphones you should buy if portability is a significant concern for you. Sony 310AP has a glossy finish and is available in trendy colors. The headphones are all plastic, and this is the reason why they are so lightweight.
The headphones, much like the boAt BassHeads 900, is foldable, and that makes it easier for carrying. The pads also look and feel plastic and are quite thin. They aren't comfortable, but they probably won't last you long.
The in-line mic and universal button also feel and works well all the time. Sony could have gone with a steel skeleton, but they decided to go with plastic to make it even lighter, and maybe to you, this won't be appealing.
Sound Quality – For an entry-level headphone from Sony, the MDR-ZX310 has impressed in the quality of sound they produce with the 30mm dynamic drivers. The bass is not huge nor at a low frequency, and if you enjoy sitting alone, these can be your best companion.
Key Features:
Lightweight
30mm dynamic drivers
Padded ear cups
Foldable
Universal button
Verdict
Sony 310AP are yet another entry-level headphones that offer genuine value for money. The quality of sound is excellent, the earphones are lightweight, and the bass is decent. The only concern is the plastic build.
If you want durable headphones, we suggest you keep reading our list, but as things stand, these headphones from Sony are the other Best Over-Ear Headphones Under Rs.1000.
Pros
Lightweight
Design
Sound Quality
Cons
---
3) Philips SHL5005
A Netherland based brand that runs across 26 Countries, Philips is now a certified household name worldwide. Philps has always been on the revolutionary side, with its products matching the new demands appealed by the public. The Philips SHL5005 is next on our list of Best Headphones Under Rs.1000.
Build Quality & Design – The SHL5005 comes with a steel spring headband for a flexible fit on your head. The headphones are quite lightweight but still looks and feels durable. So if you want to carry it around or if these headphones are for rough use, we don't think you will face issues.
The headphones have soft ear cushions, so go on listening to hours without discomfort, and if you want to make some calls in between, the built-in microphone quickly switches from music to calls. The noise isolation makes the call clarity a much better experience.
Sound quality – 32mm speaker drivers give excellent sound quality with deep bass making way for superb quality. The bass is the major highlight in these earphones, and for music lovers, these are a great choice.
Key Features:
Lightweight
Soft ear cushions
Steel spring headband
32mm drivers
Verdict
The Philips SHL5005 is an excellent pic if you prioritize good bass. The overall build is also high, but using these headphones for a long duration can be a little painful because of the steel headband having a tight fit around the head. Overall, they are a great buy under Rs.1000 if you are not a continuous user.
Pros
Bass
Lightweight
Design
Noise isolation
Cons
Listening for more extended hours may cause discomfort and pain.
---
4) Sony MDR-ZX110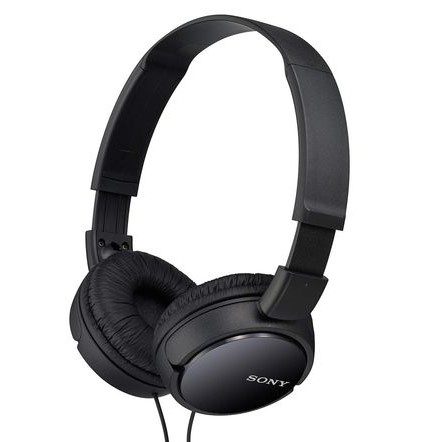 A brand like Sony is still the "Handpicked one" for millions of users. This long trustworthiness Is still the highlight of this Brand, which provides quality life and performance for the users.
The other headphones from Sony in our list and also from the same series is the MDR-ZX110. Wondering what degrades it from the ZX310 and why these headphones sit fourth on our list? Let's find out.
Build Quality & Design – The MDR series of Headphones from Sony usually ships with a slim and sleek design. With the MDR-ZX110, Sony continues that line. The ear cups are also comfortable, and with the headphones being foldable, portability is simple as ever. Just fold them, keep it in your bag, and go wherever you please.
The gloss finish can also be seen on these headphones. The headphones feel comfortable on the ear, and with the extra padding, you will be able to use it for some time.
Sound Quality – Sony MDR-ZX110 has a balanced sound output. The bass can sometimes be overpowering. The 30mm Neodymium driver delivers precise sound. In conclusion, the sound is clear, and the bass is deep, and music lovers will enjoy using these headphones.
Key Features:
30mm Neodymium drivers
Foldable design
Deep bass
Verdict
The Sony MDR-ZX110 looks stylish and delivers decent performance. The build could have been better, and daily use might cause wear and tear. It does still offer some immersive audio experience, and we recommend these to customers who are looking for entry-level headphones for a shorter use. The headphones from Sony is undoubtedly one of the Best Headphones Under Rs.1000.
Pros
Cons
---
5) JBL C300SI
When it comes to manufacturing audio equipment, JBL Enjoys a premium status in the hearts of tech lovers. The ability to create stylish and manful performance in their products has made them reach where they are now. The JBL CS300SI is the perfect combination of class and performance.
Build Quality & Design – Lightweight designs with JBL are not usually seen, but that's precisely what JBL has come up with for the CS300SI. The ear cups are self-adjusting, and the headphones are very comfortable to use. The design is compact yet stylish.
Sound Quality – Signature sounds are what everyone expects when they buy a product from JBL, and these headphones deliver precisely what the users want. The powerful and dynamic 40mm drivers with high-end bass and excellent sound quality make the C300SI stand out from the competition.
Key Features:
Ultra-lightweight
Self-adjusting ear cups
JBL signature sound
40mm drivers
Verdict
The headphones are quite affordable, coming from one of the most premium brands. The C300SI provides an excellent user experience, but it could have had better build. It is understandable because JBL cannot pack affordability with premium quality. We suggest the JBL C300SI to fans of the premium brand.
Pros
Sound Quality
Design
Comfort
Cons
---
6) Skullcandy Anti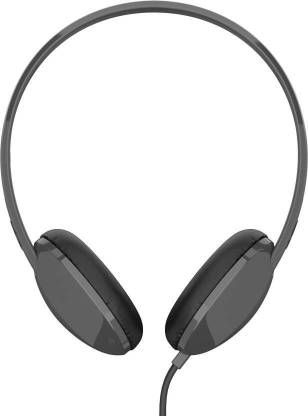 A brand that has made a Name in creating products which is of top rated Sound Quality and With an unmatchable performance, Skullcandy is a brand to watch out for. Skullcandy's products are targeted at the outdoor action, sports and also the general consumer market
Build Quality & Design – The Skullcandy Anti looks very stylish on the design front. Skullcandy is always known for its fancy design and see them here. This is the best sounding headphone from our list, and if you like to flaunt your gadgets, this is a great pick.
Fancy doesn't mean premium quality, and the headphones do not give the impressions of a high build. It is light and easy to carry around, but might not last you long. The ear cups look soft and are comfortable as well.
Sound Quality – The sound Quality on the Skullcandy Anti is excellent; the extra bass is balanced and perfect for EDM lovers. The audio does not get distorted even in high volume, which is a bonus as these headphones are very loud.
Key Features:
Lightweight
Fancy
Extra bass
Verdict
Overall, Skullcandy Anti headphones are perfect. The sound and bass are well balanced, so EDM lovers look no further. The headphones also look fancy, but the build is poor. Nonetheless, Skullcandy Anti are one of the Best Headsets under Rs.1000.
Pros
Cons
---
7) Panasonic RP-HF100MEA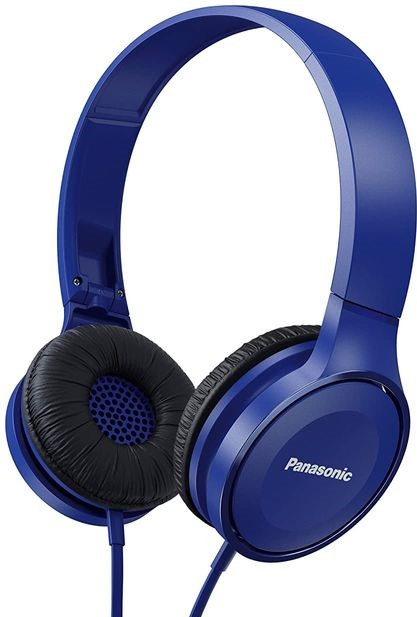 Just like the slogan of the Brand, which says, "A better life, A better world," Panasonic has been successful in creating products that are durable and Trustworthy for their users.
A Japan brand founded in 1918, Panasonic offers a wide range of products that are one of the bests in the market.
Build Quality & Design – The Panasonic RP-HF100MEA is a lightweight headphone with soft padded ear cups that has a foldable design to make carrying them more comfortable. When folded, you can store these headphones anywhere in your bag or backpacks.
The earpads are highly comfortable, and the headband has a soft texture to it, making them very comfortable to wear. There is also an in-line mic and buttons for call control to switch between music and calls seamlessly.
Sound Quality – The headphones feature 30mm Neodymium drivers and bass control filter that delivers right bass tones and clear cut sound. The sound is balanced and perfect for indoor environments but does not do well in outside scenarios.
Key Features:
Lightweight
Foldable
In-line mic
30mm neodymium drivers
Sharp bass tones
Verdict
The headphone from Panasonic is an excellent buy, considering the price. Decent sound quality and comfortable build can attract a lot of customers. If sound performance and bass is a real concern for you, then we suggest the boAt BassHeads 900.
Pros
Cons
Sound Quality
Bass is just average
No noise isolation
---
8) JBL Infinity Zip 500
We finish off the list with the biggest name in the audio tech industry JBL. JBL Infinity Zip 500 is one headphone you can buy if you want the premium tag. The headphones from JBL is one of our picks for Best Headset Under Rs.1000.
Build Quality & Design – Infinity Zip 500 ships with a lightweight and flat foldable design. The ear cups are lined with flat cushions for extra comfort. The cables are tangle-free to avoid any sort of mess.
The soft cushions ensure the headphones can be used for longer durations and offers excellent comfort. Hands-free calling with a one-button remote adds to the user's delight. There is also support for voice assistants, which is something premium in this price range.
Sound Quality – Advanced 32mm dynamic drivers deliver average sound quality and cut off external noises. The bass, too, is average. The sound quality is just decent, but with signature JBL sound, fans of the Brand would be delighted.
Key Features:
Lightweight
Foldable
Flat cushions
32mm dynamic driver
Tangle-free design
Verdict
The JBL Infinity Zip 500 seems reasonable in terms of specs, but the headphones do not perform as expected. There are many shortcomings, and we suggest these headphones to those who consider brand value above all.
Pros
JBL signature sound
In-line mic
Voice assistant integration
Comfort
Cons
Sound quality and bass is just average
The build could have been better
---
Best Gaming Headphones Under Rs.1000
We at Logicalshout understand that a couple of you out there want headphones solely for gaming purposes. As a bonus, we bring you the list of best gaming headsets you can buy in India under Rs.1000.
1) AmazonBasics Gaming Headset
The web's most prominent retailer Amazon decided to launch its own set of products and the result? Amazing indeed. This Brand has caught the eye of the people as they focus keenly on small and relatively less expensive products.
The gaming headset from AmazonBasics is the best gaming headphone under Rs.1000. You can get under a budget, and from a gamer's viewpoint, the deal is solid.
Build Quality & Design – AmazonBasics gaming headsets are exclusively for gaming purposes. The build is decent with soft, breathable ear pads. The unidirectional microphones bring crystal clear 2-way communication when you are at your gaming station.
Sound Quality – The sound quality is excellent for gaming, with in-game being effects sounding great. These headphones are designed for beginners and experienced players alike. With support for multi-platform use and clear clarity while speaking, these headphones do the job well.
Key Features:
2-way communication for gaming
Multi-platform support
Soft, breathable pads
Unidirectional microphone
Verdict
AmazonBasics gaming headsets are the perfect choice for beginners. The headphones are good in terms of quality and comfort, making them the best gaming headphones under Rs.1000 today.
Pros
Multi-platform support
Mic performs really well
Comfort
Cons
---
2) Cosmic Byte H1 Gaming Headphones
An Indian based brand that targets youngsters mainly as their customers have a significant following among the gaming community. Transparency in their services and stylish designs has helped them to stay in the market and compete with the bests. Next on our list is the Cosmic Byte H1.
Build Quality & Design – The build quality is excellent, and the headphones aren't bulky. There are braided cables with gold plated jacks for better performance. The mic performs very well, and the design looks fancy with the colors. Volume controls are on the side for gaming convenience.
Sound Quality – The sound is balanced with 40 mm drivers, and for gaming, the effects are significant. Gaming experience with these headphones are crazily good, and if you love gaming, you will love these headsets as well.
Key Features:
Gold plated jack
Braided cable
40mm drivers
Verdict
Cosmic Byte has launched a great gaming headset for such an affordable price. These look fancy and perform well. If you aren't familiar with AmazonBasics, then go for Cosmic Byte H1, and you won't be disappointed.
Pros
Design
Sound Quality
Durability
Cons
No multi-platform support
---
3) Kotion Each GS410
Kotion is another gaming-centric company that launches a few gaming headsets. Their products are solely meant for gamers and to boost their experiences.
Build Quality – Kotion Each GS410 looks quite fancy, and soft cushion pads assure comfort while using them. The microphone is flexible and can be adjusted to your liking while gaming.
Sound Quality – The headset delivers clear sound and deep bass, and these are evident when you play games like PUBG, CS: GO, COD, and so on. The headsets perform very well, considering the price.
Key Features:
Soft cushion pads
Flexible microphone
Deep bass
Verdict
Yet another right choice for gamers. These headphones from Kotion perform for the price you invest in them.
Pros
Design
Comfort
Sound Quality and bass
Cons
No multi-platform support
Plastic build
---
4) Redgear Dagger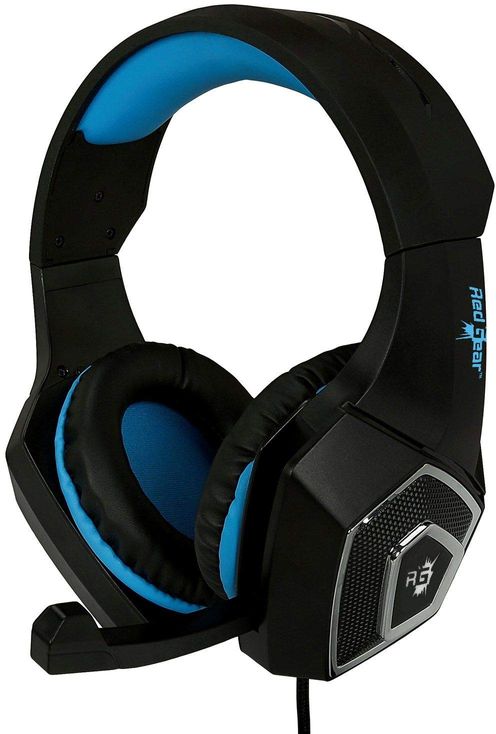 Indian origin companies are growing, and Redgear is a prime example of having a great fan following from the gaming community. Redgear succeeds in providing the demands of its users.
The Brand offers products that are comfortable for users and purposeful quality. The final headphones to conclude the list and the last gaming headphones we suggest you buy is the Redgear Dagger.
Build Quality & Design – The Redgear Dagger has an adjustable headband for gamers. The extra cushion makes the headset more comfortable to use. The highlight of the Dagger is the RGB LED colors. The colors can be seen on the ear cups, and these make the Dagger a fancy looking headset.
The cables are braided, and the volume controller with mic is easy to use. The microphone is also retractable if you do not wish to use it.
Sound quality – 40mm drivers make the Redgear Dagger produce competitive audio quality. While gaming, these headphones are well in track and deliver accurate, precise, and smooth voice.
Key Features:
Three-color RGB LED light
Braided cable
Retractable microphone
40mm drivers
Verdict
It is an excellent headset for gaming, but clarity is comparatively lower. The AmazonBasics gaming headset provides many more features in the same price segment; however, Redgear is a well-established name, and those who wish to go with the Brand may choose these.
Pros
Design
Durability
Comfort
RB lights
Cons
Sound Quality
No multi-platform support
---
Conclusion
We have come to the end of our list of best headphones under Rs.1000 in India. This year would likely witness more and more launches. As better and affordable options launch, we will be sure to update our readers.
Related Posts You May Like:-