Everyone around the globe uses headphones. Although there are earphones, headphones offer much more of a secure fit, and the immersive sound experience makes them shine more. In this blog post, you will know about the best headphones in India.
Carrying them around is also easy as many headphones these days come with compact designs. With over-ear headphones, you can always quench your taste for music and clear out the world around you.
Headphones are made in a range of different audio reproduction quality and other capabilities. There are many things to keep in mind when picking the right headphone, and we are here to help you out.
Best Wired Headphones in India
After a thorough study, the list has been made, making comparisons of quality, performance, price, and user feedback. If you are looking for a wired headphone in the particular budget range, then you must check out the best headphones under Rs.5000 and Rs.3000.
1) Audio-Technica ATH-M50x
A Japanese company that produces professional microphones, headphones, and other audio equipment, Audio-Technica blends quality with performance. The Audio-Technica ATH-M50x is a professional studio headphone that offers detailed sound.
Build Quality & Design – The ATH-M50x are well-built and sturdy. The headphones look stylish. Although they are not lightweight, they feel comfortable to use. The circular design allows for excellent sound isolation as well.
The earcups have a rotating feature. They are 90-degree swiveling earcups for one-ear monitoring, and when you do not use them, you can comfortably keep them around your neck. The headbands, too, are quite durable, although it is a plastic build.
One point to be noted is that these headphones come in two variants. There are wired and wireless options available, and in both, the cable is detachable.
Sound Quality – Soundwise, the headphones are accurate and stay real with marketing as they are monitor headphones. There is detailed bass, midrange, and vocals. All music genres perform very well when you listen to them with these headphones.
The significant 45mm drivers are responsible for such sound accuracy, deep and clarified bass. There are no questions when it comes to microphone quality as they perform in top-notch condition.
Key Features:
90-degree swiveling earcups
Detachable cable
Detailed bass
45mm drivers
Verdict
The Audio-Technica ATH-M50x headphones are a modestly improved version of their current ATH lineup. They are the best sounding headphones currently available in India and are based on a great design. They are bulky, so people who are always on the move can avoid this and go for other convenient options on our list.
Pros
Design
Comfortability
Build Quality
Sound
Cons
No integrated microphone
Bulky
---
2) Sennheiser HD 599
Sennheiser are a premium audio equipment company that has been a real competitor in the best headphones market. The Sennheiser HD 599 is our second best pick for the Best Headphones in India.
Build Quality & Design – The headphones feature an open acoustic design. It is an around-the-ear design that is comfortable to wear for longer sessions. The design is robust, with the headphones being built with the most premium components.
The ear cups are large, which adds to the comfort. The headband, too, is cushion-padded. The HD 599 comes with two detachable cables, one with a 3.5mm jack for phones and laptops and another 6.3mm jack for the home entertainment system.
Sound Quality – The sound is genuinely natural. The headphones lean on the bass, and bass-heavy tracks perform well with these headphones. There are no distortions in noise, even at high volumes.
Key Features:
Open Acoustic design
Cushion-padding
Detachable cables
Natural audio
Verdict
The Sennheiser HD 599 are comfortable to use and carry around. The sound reproduction is excellent and balanced. All in all, they make a great buy if you are looking for the Best Wired earphones,
Pros
Lightweight
Comfortable
Great Audio Quality
Cons
Sound leak (because of the design)
---
3) Beyerdynamic DT 770 Pro 250 OHM
Beyerdynamic is yet another German audio equipment manufacturer that has been around since 1924. They offer premium quality with premium performance. The Beyerdynamic DT 770 Pro 250 is a prime example of what they offer.
Build Quality & Design – The Beyerdynamic DT 770 Pro has a closed-back design. There is isolation from noises, and there is no leakage of sound at all. These headphones are ideal for vocalists, broadcasts, or generally for studios.
The headphones are sturdy and durable. The headband ensures a secure fit. The ear cups are soft and adjustable. It is lightweight, making it more convenient.
The cables are detachable, and zero tangles could happen. You can adjust the DT 770 pro according to your needs.
Sound Quality – The DT 770 Pro offers a range of cables. The 1.6m straight cable is for mobiles and laptops with 32-ohm impedance. The 3m straight cable for general studio use with 80-ohm impedance and the 3m coiled cable for studio mixing with 250-ohm impedance.
They are bassier than most studio headphones, but even the bass is luxurious. The DT 770 Pro offers a crisp, detailed, and precise sound. The details are punchy, and with the closed-back design, these are the best headphones with noise cancellation.
Key Features:
Closed-back design
Lightweight
Different cables for ohm impedance
Studio headphones
Heavy bass
Noise cancellation
Verdict
The Beyerdynamic DT 770 Pro is most recommended for studio purposes. They offer high-end sound quality, and the price tag is justified. Indeed, this is one of the Best Headphones in India.
Pros
Reasonable Price
Sturdy
Balanced and detailed sound
Cons
Some parts are plastic.
No replacement cables
---
4) Razer Kraken RZ04
Razer is mainly a gaming-centric company. They manufacture headphones that are gaming-centric and those which are appealing to the youth. The Razer Kraken RZ04 is the Best gaming headphone available in India.
Build Quality & Design – The Razer Kraken looks stylish and has not blended a lot of colors like other gaming headphones. There is a grill like the design on the outer front. The headbands are padded, making them suitable for more extended use.
The cushions are cool-gel infused, so that prevents them from heating up. The leather rims also make way for noise isolation. The earphones are not precisely lightweight, but they do not feel bulky as well.
They are flexible with a retractable unidirectional microphone that can be used for team communication for games; they are ideally the Best Headphones for PUBG. Also, there are in-line controls for volume.
Sound Quality – The sound quality is decent and best suited for gaming purposes. If you are an audiophile, you have many better options. The volume can go very high, so you only need to set the headphones to 70 percent to get the best output.
While gaming, these headphones are the best. There is enough detail and plenty of basses. We suggest you use this headphone strictly for gaming.
Key Features:
Gaming headset
Cool-gel ear cups
Retractable microphone
Detailed sound
Noise isolation
Verdict
The Kraken RZ04 is the best gaming headphone that you can get. The bass is excellent, and gaming performance is phenomenal. The design is trendy and very appealing to beginners and professional gamers.
Pros
Gaming Sounds
Design and build
Comfortable
Cons
Not many features
No detailed sound
Not suitable for music playback
---
5) Sennheiser HD 300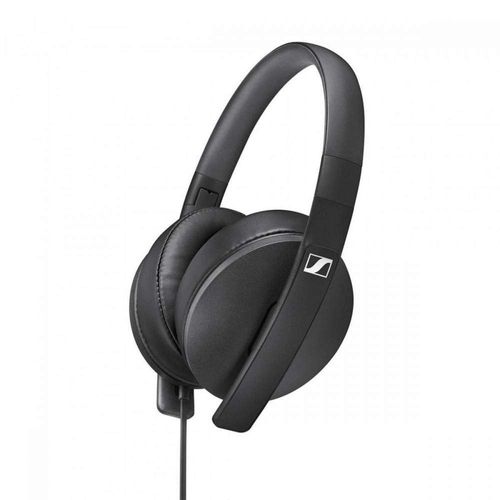 Sennheiser's HD lineup has produced some excellent over the ear headphones. The HD 300 is comfortable, provides a unique sound, and does precisely what you expect from a top brand.
Build Quality & Design – Sennheiser chose to follow the same design as their other HD lineups. It is quite light, and the ear cups are very soft and comfortable for longer listening sessions.
The headphones are foldable, making them easier for portability. The noise isolation is not too good because they do not seal in tight around the ears.
Sound Quality – The audio output is very detailed and natural-like. The bass is tempered and suited for most musical genres. The sound overall seems very natural and accurate. These are good budget options for audiophiles.
Key Features:
Lightweight
Foldable
Detailed bass
Passive noise isolation
Verdict
The Sennheiser HD 300 is a good option for people looking at premium quality in a budget range. They can quickly satisfy your music tastes. We should remind you that there is no microphone present, so only those who prefer music alone should buy.
Pros
Sound Quality
Design
Comfortable
Bass
Cons
No microphone
Noise cancellation
---
6) Audio-Technica ATH-M20x
The ATH-M20x is the sibling of the ATH-M50x you saw on our list. They do not compromise much in terms of specs and stay true to their value. They are also less expensive.
Build Quality & Design – The ATH-M20X has a great design with very comfortable soft-ear ear cushions. The design looks professional, and the headphones are designed in such a way that they offer noise isolation.
Sound quality – 40mm Neodymium drivers are custom-tuned to improve frequencies. Users did notice distortion at the high volume level, but these distortions are minimal, so it's not much to bother about.
Key Features:
40mm Neodymium drivers
Custom tuned
Noise isolation
Verdict
The Audio Technica ATH-M20x is an excellent headphone that caters to most needs. The design looks professional and sound output is decent as well.
Pros
Design
Comfortable
Noise isolation
Cons
Not the best for longer sessions
Sound distortion
---
7) Sony MDR-XB550AP
Sony's headphones are technologically advanced to produce the best audio output. The MDR-XB550AP is an affordable option for those wanting a top-quality headphone without spending a lot of money.
Build Quality & Design – The Sony MDR-XB550AP features a swivel folding design. The headphones have tangle-free cables to keep the headphone cables from being messy every time you take them out.
The headband is adjustable, and soft cushioned ear pads allow for comfortable listening. The headphones are lightweight. There is an in-line mic present with a smart key. The smart key is customizable according to your needs.
Sound Quality – These are the best pick of headphones for EDM lovers. The bass is enhanced for users. The MDR-XB550AP has new bass technology, which makes these possible. There is a bass booster that amplifies low-end frequencies.
Key Features:
Swivel folding design
Soft ear pads
In-line mic
Smart key
Enhanced bass
Verdict
The Sony MDR-XB550AP is one of the best headphones for music lovers. They offer excellent build quality and with foldable design, making them compact compared to other headphones in our list.
Pros
Cons
Noise cancellation
No dedicated button
---
8) Sennheiser HD 205
We aren't brand-centric, and this is the last Sennheiser product on our list. Sennheiser HD 205 is one of the best headphones currently. They are not at the same level as the HD 599 or HD 300 but still ticks all the right boxes.
Build Quality & Design – HD 205 is a plastic build headphone but priced at just under Rs.3000, you can't complain. They also have a bulky design, so these are not your lightweight gadget.
There is comfort when you wear them. The ear cups are rotatable for one-ear listening. The headphones aren't the most durable, so be careful with the use.
Sound Quality – The Sennheiser HD 205 are studio headphones. They produce sounds that are very similar to the ones you get from a studio. The bass is excellent, and there is a powerful stereo sound.
Listening to high volumes might cause distortion, but leaving that out, the HD 205 is actual value for money.
Key Features:
Rotatable ear cups
Powerful stereo
Studio headphones
Verdict
Sennheiser HD 205 is actual value for money gadget. They offer excellent sound and bass. One thing they could have improved is the build, but the HD 205 makes it to the list of best Wired Headphones in India.
Pros
Comfortable
Studio level quality
Value for money
Cons
---
9) Sony MDR-XB450AP
The MDR-XB450AP from Sony is focused on delivering the best bass and durability. They come at an attractive design targeted at the younger generation, but is the hype worth it? Read on to find out.
Build Quality & Design – The MDR-XB450AP reminds us of what Sony is. The headphones are foldable and easy to carry. The components of the headphones feel sturdy and durable. For the price range, they are of stunning build quality.
Sound Quality – Featuring a 30mm driver unit, the Sound Quality is excellent. The bass is heavy and detailed. There is an in-line remote with a microphone that delivers clear and crisp call quality.
Key Features:
30mm drivers
Cushioned ear pads
In-line remote with mic
Verdict
This headphone is for those customers looking for a premium brand at a budget price. Sony's headphones offer decent performance and are a great buy under Rs.2000.
Pros
Deep bass
Comfortable
Design
Cons
Sound quality could have been better.
---
10) boAt BassHeads 900
boAt are the underdogs in the audio industry. They launch the most affordable line of products with exceptional performance. The boAt BassHeads 900 comes last on our list, but this is one headphone that everyone should check out.
Build Quality & Design – boAt BassHeads 900 is lightweight and does not feel like they are around our heads. The design is sleek and compact, and being foldable is a big plus. The headbands are adjustable, but the build is a lot of plastic.
The ear cups are soft, and there is an in-line microphone for calls. The build makes way for passive noise cancellation as well.
Sound Quality – As the name suggests, the BassHeads 900 offers rich bass quality without compromising anything. The audio is compelling. The 40mm neodymium drivers provide detailed sound.
Key Features:
40mm drivers
Lightweight
Foldable
Enhanced bass
Verdict
boAt BassHeads 900 is the most affordable headphones on our list. They offer the utmost quality at an eye-catching price point. They are last on our list of the best headphones in India.
Pros
Cons
The build is not durable.
---
We have reached an end to the list. Headphones will continue to dominate the audio equipment industry, so our list should have helped you if you are an audiophile. Subscribe LogicalShout Email Newsletter to get the best gadget list on your Email.
You May Like:-