In PC gaming, the mouse plays a major role. If you have a reliable gaming mouse, you can outperform your teammates and put on a good show even if you are a beginner. In this blog post, we'll take a look at some of the best gaming mouses under Rs.1000 in India. 
With the COVID-19 pandemic rising again, games and entertainment have been a huge relief for everyone. Online gaming has been on a steady rise and you need a good mouse to play some of the best free games.
Before buying, make sure that your choice has some features covered. An RGB setup is a nice addition to any mouse but you need to get a product that is utmost comfortable and responsive to movements.
If the performance is generally good, then you are set. However, if you are a left-handed user, make sure to stay away from right-handed centric mouses and opt for an ambidextrous design instead.
Best Gaming Mouse Under Rs.1000
We have chosen all the mice on this list after hours of research and comparison. There are options from some of the biggest brands in the country. Read the whole blog to pick your perfect choice. 
Have a look at the best wireless mouse under Rs.1000, if you are looking for a gaming mouse in a specific budget, then check out the best gaming mouse under Rs.2000 or go to Gaming Category via menu.
1) Redragon Phaser M609 – Best overall pick
The top pick on our list is the Redragon Phaser M609, a mouse that is a great performer for all sorts of games available.
Build Quality & Design – The Phaser M609 has a very bulky design. It is instantly attractive thanks to its huge build, but that may not be for everyone. A LED-backlit gives the gaming mouse an edge over rivals. It offers a total of 4 changing lights.
The wired mouse comes with a total of 6 programmable buttons. The buttons are quite sturdy and Redragon assures a 5 million click durability which is honestly a lot. 
The mouse is also built using a special Teflon formula that Redragon claims offer excellent gliding.
Usability – Now, thanks to the special formula Redragon uses, the mouse works well in almost all conditions. It also has an adjustable DPI of 1000/1600/2400/3200. The adjustable DPI will let users set the mouse to work across different surfaces.
Performance – The mouse has a high-precision optical sensor, so it tracks very well. The smooth and gliding performance is excellent for gaming. One drawback is the size of the mouse. Since it is heavy, prolonged usage may result in exhaustion or pain.
Additionally, gamers can also customize the two buttons for shortcuts in their favorite games. It provides a good grip for fast-paced games, so you can opt for this wired gaming mouse if your budget is under Rs.1000.
Key Features:
RGB LED Backlit
6 programmable buttons
Special Teflon formula
Adjustable DPI
Customizable buttons
High precision optical tracking
Verdict
The Redragon Phaser M609 is a perfect buy for gamers. It offers great grip, fast-paced movements, and an RGB color setup to give you the best environment for gaming.
Pros
All the buttons are tactile and smooth to use
RGB lights are a sweet addition for gamers
Build quality is very sturdy and long-lasting
Dedicated DPI adjustable button for users always on the move
Cons
The mouse may be a bit too heavy for some users
Driver installation required in some OS systems
---
2) Redgear A 20 – Runner-up pick
The second featured mouse on our list is the Redgear A 20. Redgear is a brand completely catered towards gamers and they have done a great job with this wired mouse providing exactly what they need.
Build quality & Design – Redgear A20 features a distinct RGB design. The Redgear branding is on the near bottom and the design is bulky. That is one major disadvantage to gamers who would occasionally move their mouses a lot.
Redgear has also equipped gaming-grade sensors for quick reflexes. This will come in handy when you play games like CS: GO and Valorant. The USB mouse also has a braided cable so it ensures durability even with rough usage.
Usability – Talking about usability, the A 20 can change DPI with a click of a button. You can adjust the DPI settings to 4800 and this is enough to make the mouse usable on most surfaces.
Performance – On the performance front, the Redgear A20 lets you customize everything. You can set your key binds to help in a particular game. There are a total of 7 programmable buttons. You can set these to work in the best way possible regardless of whether you are a gamer or a designer.
Key Features:
Wired USB mouse
RGB design
Gaming grade sensors
Adjustable DPI
7 programmable buttons
Customizable buttons
Verdict
The Redgear A 20 is another spectacular gaming mouse.
Pros
Customization options in the mouse are very solid
Adjustable DPI is a very nice touch
Cons
Since the mouse is heavy, it cannot be used for fast-paced gaming
---
3) Flipkart SmartBuy Dash Series G74 – All rounder mouse
Flipkart's brand has been launching some value-for-money products over the years. The Dash G74 is an affordable gaming mouse you can opt for if you don't mind not having a popular branded product.
Build Quality & Design – The G74 from SmartBuy comes with a very simple design. It features RGB lighting on the sides that has six vibrant colors in total. The mouse also comes with a braided cable that will not break easily. Flipkart has also gone with an ergonomic design that fits right into your hands.
Usability – The Dash G74 has 4 level DPI adjustments. With this, you can change the DPI settings based on the surface you are using your mouse in. This doesn't work on glass surfaces, but you will have a better time with rougher surface areas.
Performance – The mouse comes with both forward and backward buttons to help gamers. It has breathable RGB but for the price range, that seems right. Also, the mouse is a good performer considering the DPI settings and fast scrolls.
Key Features:
Wired USB mouse
RGB lights
Braided cable
Adjustable DPI settings
Forward and backward buttons
Verdict
The Flipkart SmartBuy Dash Series G74 is an affordable gaming mouse. It comes with some good features and is worth a try. 
Pros
The RGB lighting is a good attraction
DPI levels can be adjusted according to the surface where you are using the mouse
Cons
The sensor of the mouse reportedly does not work at times
---
4) Offbeat RIPJAW – Wireless Gaming Mouse
Offbeat is an unknown brand in the segment. However, they have managed to bring in an affordable wireless gaming mouse for just under Rs.1,000. If you are a fan of testing out new products, then this will prove to be the right choice for you.
Build Quality & Design – The Offbeat RIPJAWS looks and feels like a gaming mouse. It has a sharp design all around and even the black and color combination works quite well.
Since it is a wireless mouse, you won't face a hard time untangling the cables. Although Offbeat claims it is ergonomically designed, the mouse is on the heavier side.
Usability – Let's talk about usability now. The mouse gives you the choice to set the DPI on your own. You can choose from 1600/2400/3200 DPI based on the work or the surface on which you are using your mouse. The sensor isn't all bad, and it gets the work done.
Performance – With the dual gaming mode function, Offbeat has tried to reduce the wireless feel of the mouse. The mode brings stabilized and faster connections. There are also 7 programmable buttons that you can customize to your wish. Overall, the performance has been satisfactory.
Key Features:
Wireless gaming mouse
RGB breathing light
Adjustable DPI
Dual Gaming mode
Multi-function buttons
Verdict
Offering a wireless gaming mouse in this price range is something big. There are a couple of flaws to the mouse, but if you want a wireless option under Rs.1000, then the Offbeat RIPJAWS is your choice.
Pros
The design is compelling and attractive for gamers
Buttons are tactile and customizable
Cons
The mouse is too heavy with the metal plate for quick movements
---
5) Lenovo Ideapad M100 RGB – Portable Mouse
Lenovo has an array of wireless mouses in their product list. And the Ideapad M100 is one gaming mouse that stands out. However, this mouse isn't exclusively for Lenovo laptop users. Love hardcore gaming? This mouse is a good companion.
Build Quality & Design – The design of the Lenovo Ideapad M100 does not spark any big interest. It is simple and looks just like any ordinary mouse. It does feature RGB lighting but since it's restricted to the logo and scroll wheel, every user may not be fond of it.
But Lenovo has got something right with the design. The Ideapad M100 has an ambidextrous design. This means that both left and right-handed users can use the mouse without any problems.
Usability – Just like most of the mice on the list, the Lenovo M100 also has adjustable DPI settings with the click of a button.
Performance – Performance-wise, the mouse is not a letdown. However, do note that there is no software support to adjust and change DPI or RGB lightings. But on any regular day, this mouse will give you a good gaming experience.
Key Features:
Wired USB mouse
Ambidextrous design
Adjustable DPI settings
RGB lightings
Verdict
The Lenovo Ideapad M100 is a good option from the company. It is ranked lower as it misses out on some key areas but is still a good choice to consider buying.
Pros
The build is solid and suits every type of user
The performance of the mouse is satisfactory for the price
Cons
No software support for RGB and DPI settings
RGB lighting could have been way better in the design
---
6) Dragonwar ELE-G9 – Stylish and trendy option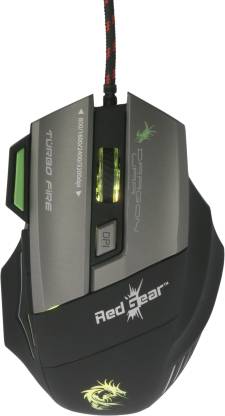 Dragonwar is another gaming-centric company and you can guess that just by the ELE-G9's design. A sub-brand of Red Gear, this wired gaming mouse has secured 6th position on our list.
Build quality & Design – Starting, the Dragonwar ELE-G9 has a bulky design. The colors work well for the mouse and the ambient RGB lighting is fine, but not the best.
The grip on the mouse is good and it will help a lot while playing games that require quick movements.
Usability – On the usability front, the mouse comes with on-the-fly DPI change. Users can set the DPI in various levels as follows – 800/1600/2400/3200. This does let the mouse work in many conditions, so no real complaints there.
Performance – While the mouse is smooth, the right and left button clicks will take some time to get used to. You need to apply a bit of pressure and it isn't exactly soft. The click noises are a little louder as well.
Key Features:
Wired USB mouse
Ambient RGB light
Adjustable DPI settings
Ergonomic design
Verdict
Overall, the Dragonwar ELE-G9 is a splendid choice. But the mouse is quite large for normal users. It is also a little on the heavier side, so you can't move it freely while gaming.
Pros
The design is good for the price range. It is sharp and has good aesthetics
Performance from the mouse is also fair and consistent
Cons
The mouse is a bit heavy for fast-paced use
Mouse clicks take more pressure to register
---
7) Ant ESports GM300 – Mouse For Professional Gamers
Ant Esports came to India back in 2016. Since then, the company has been making drastic changes in the Esports segment. Several new products have gained one's attention and the GM300 mouse is certainly one of them.
Build quality & Design – This can be considered a mouse for professional gamers. It has the look and feel of one and certainly gains attention very fast. It is bigger when you compare it to most other devices.
The RGB lighting around the mouse and a range of color options keep the GM300 a fresh choice among the competition. It also comes with a braided cable, so rough use won't affect the mouse.
Usability – Four-level DPI adjustments are offered by the GM300. The adjustments come in at 1200/2400/3200/4800 which is fairly good enough.
Performance – The mouse is a solid performer. With a 1ms response time, it produces zero lags while gaming. The high IPS tracking speed for shooter games will also prove useful for users.
Key Features:
Wired USB mouse
RGB effects
Braided cable
Adjustable DPI
1ms response time
High IPS tracking speed
Verdict
The Ant Esports GM300 is undoubtedly one of the best performing gaming mice. It has many features that help a professional or intermediate gamer. If the size wasn't this large, then the mouse would have been placed higher on our list.
Pros
The mouse is a good performer for all titles
Clicks are smooth and tactile
Cons
You need to install additional software to make the other buttons work
The mouse is a little heavier for fast use
---
8) HP M150 – Value For Money Gaming Mouse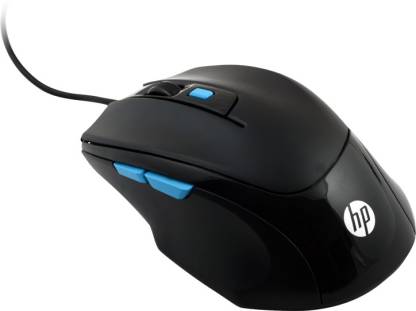 HP had to make an entry into the segment. The HP 150 is a solid offering from the brand that works well for casual gamers.
Build Quality & Design – The HP M150 has a black and blue dual-tone design. It features no RGB lights so if you are a fan of it, this probably isn't a good choice for you. There is no braided cable or any special features and HP has gone with something quite simple.
Usability – DPI is fixed at either 1000/1600, which is quite good. However, not having the option to adjust or change DPI may be a problem for many.
Performance – Coming to performance, the mouse does a decent job. There is no real complaint as it does perform all the tasks. There are additional buttons as well that can be customized to perform key binds while gaming.
Key Features:
Wired USB mouse
1000/1600 DPI
Forward and backward buttons
Verdict
If you want your products to be a well-known brand, then the HP M150 is a considerable choice. There are a lot of shortcomings with this gaming mouse, so do keep that in mind.
Pros
Premium brand with customer support throughout India
Lightweight and comfortable for long usage
Extra buttons for key binds and quick shortcuts
Cons
No RGB setups
No braided cable
Adjustable DPI does not give many options
---
9) Dell WM126 – Affordable wireless option
If you are fine with not having a gamer-inspired mouse, then the Dell WM126 is a possible option for you.
Build Quality & Design – The Dell WM126 does not give any feelings to a gaming mouse. It looks professional with the all-black design and the Dell branding on the near bottom. However, it is a wireless option, so no issues with wires tangling or having to connect it.
Usability – It has a 1000DPI optical tracking so may not be the best for gaming, but considering it is wireless, you should look into it.
Performance – The buttons are clicky and responsive. Some may not like the loud sound of clicks, but that is all. The battery will last you around 4 months with average usage, which is not so bad considering the Dell WM126 is available for just Rs.560.
Key Features:
Wireless mouse
1000 DPI optical tracking
4-month battery life
Lightweight and ergonomic
Verdict
The Dell WM126 is another wireless option on the list. But since it is from Dell, the premium brand value stands atop.
Pros
Simple and lightweight design
Battery life is decent for the price
Cons
There is no adjustable DPI
Neither backlit nor RGB setup is present
No additional buttons for gamers such as forward/backward or customizable keys
---
10) Live Tech Professional Gameon Wired – Honorable Mention
Live Tech is an Indian brand that hasn't been in the spotlight. However, they have launched a very interesting gaming mouse priced just under Rs.1000 in India.
Build quality & Design – In all honesty, the Live Tech Gameon has pulled off the look for a gaming mouse. It is bold and has all the right RGB setups to make it an interesting buy. It has stainless steel feet in the bottom, but that does make it a lot heavier. For some, it may give a good grip, but it will not help in moving around fast.
Usability – The mouse has adjustable DPI settings and Live Tech claims the max DPI is a whopping 8000. That gives a lot of leverage while using the mouse on any condition or sensitivity. But the sensitivity on the mouse is poor compared to the rest of the competition.
Performance – It only does an okay job in performance. There is no outstanding element to the mouse. If you solely use it for light and intermediate gaming, you won't have any issues.
Key Features:
Wired USB mouse
RGB setup
Adjustable DPI levels
6 programmable buttons
Verdict
While the specs sheet looks good on paper, the Live Tech gaming mouse does not deliver its performance. Purchase this mouse only if you want to try something different.
Pros
The design of the mouse is attractive with the RGB setup
6 programmable buttons come with easy shortcuts
Cons
Mouse sensitivity is off
Clicks do not register properly most of the times
The mouse is heavy due to fast movements and prolonged usage
---
Conclusion
So to conclude, you have some great options to choose from. Our top recommendation would be the RedDragon Phaser M609 for all your gaming purposes.
For a wireless option, you can pick between the Offbeat RIPJAWS or the Dell WM126. For professional purposes, we recommend the Ant Esports GM300 as it is a powerful gaming gadget. 
You May Like to Know:-