Buying a fitness band is almost the first step to attain fitness and knowing about your own body. With multiple tracking features that come in with a fitness band, users can stay in their best shape with the help of a fitness band.
In the Indian market, many fitness bands provide the best quality and content for a band. But the majority of the Indians always keep on products that are easy on the pocketbook.
So We, The LogicalShout team, is here to help you choose the best fitness band under 2000 Rs. The list was made after going through several user reviews and hours of research. With that being said, let's get started.
Best Fitenss Bands Under Rs.2000
Finding a good fitness band according to your needs may be a difficult task, but don't worry, my team and I researched and reviewed many fitness bands under the Rs.2000 budget; you can choose any of them from the below list. Also have a look the best fitness bands under Rs.3000.
1. MI Smart Band 4 (Best pick)
The growth of the Xiaomi brand is markedly astounding as the Chinese brand has asserted its dominance in almost every section of the electronic market. Xiaomi's dominance in fitness bands started with the Mi smart band 4, which turned out to be a blockbuster product.
The Xiaomi Band 4, which will cost you close to 2000, is still one of the best smart bands out there, even after being released two years ago. So let's look at what makes this smart band still one of the best fitness bands in the market.
Build quality and Design- Silicone band with a plastic capsule that is what the exterior design of Mi band 4 is made of. We can see a display with a button below the screen on the capsule.
Well, if you want to add a bit of color to your Mi band 4, Xiaomi offers five color variants for the users to choose from. Starting from the classic black strap to Blue, Orange, Pink, and Red.
Xiaomi has kept a simple and classy design for the mi band 4. The build quality is also adequate. Users won't find any discomfort wearing this band as it fits well for all the activities. Xiaomi has also provided a swim-proof feature for the band, which is a wonderful addition at this price range.
Display- For the MI smart band 4, Xiaomi provides an AMOLED color display. The 0.95-inch screen is devoid of serious flaws.
Users won't find any issues viewing the smart band in direct sunlight as it has crisp texts and colors with the apt contrast.
The peak brightness level is close to 400 nits in this device. This fitness band from Xiaomi offers users to enjoy an amalgamation of fashion and features. There is an unlimited count of watch faces in this band for the users to use, providing them the luxury of choosing.
Software and features- Mi provides an apt UI for its MI smart band 4, and the users are bound to be satisfied. In addition, users can customize the notification list using the Mi fit app. But the real deal of the Mi smart band 4 lies in its tracking abilities.
The device can track different types of workouts. In addition to that, the device also tracks sleep and continuous heart rate monitoring. The tracking accuracy is also adequate, but a lacking GPS can be blamed for the slight variation.
The exercise tracking mode is one of the best features of the smartwatch because of its accuracy. Sleep tracking also gets a noteworthy mention but requires constant performance.
Battery- The Xiaomi brand is known for providing the best battery backup in the market. The company claims a 20 days battery life for the phone with a single recharge.
Well, the actual figure is also close to the 20 days range as you can expect the smart band to last for more than two weeks.
The battery life is also heavily inclined to the use of optional features.
Key features
Touchscreen Display
Unlimited watch faces
Intelligent sleep tracker
Heart rate monitoring
Smart notification
Verdict- The MI smart band 4 is head and shoulders above all other competitors for the title of being called the Best fitness band under Rs.2000.
Pros
The accuracy of activity tracking is great
Display shines out
Custom vibration pattern
Decent battery life
Unlimited Watch faces
Cons
Lack of accuracy in tracking features
---
2. Honor Band 5i (Runners Up pick)
Honor has surely been producing quality assured fitness accessories lately. The Honor Band 5i is the light version of the original Honor Band 5 and comes under an even more affordable price rate of Rs.1,999. Moreover, Honor delivers a set of nifty features that make your money worth it. 
Build Quality and Design- The Honor Band 5i ensures a smooth and impressive design that suits your wrists superbly. In addition, it is lightweight and comes with detachable straps made of silicone. These straps are available in Black, Green, and Pink colors. Not only that, when you detach from the bottom strap, you can see a USB charging port. Yes, that means you won't be required to carry additional cables for charging the band.
Display– With a TFT panel measuring 0.96- in and with 160×80 HD resolution, Honor provides an adequately bright display and colorful watch faces that give pleasure to your eyes. You have access to nearly 60+ watch faces available on the Huawei Health app.
You could wake the screen by raising your hand or tapping on the display. A touch-sensitive button is located at the bottom of the screen and acts as the Home button. The display could get easily splodged and diminish the visuals on the screen.
Software and Features- Honor Band 5i comes with easy-peasy navigation. You can swipe up/down to cycle through pages, and swiping right takes you to the previous page. Honor has also added SpO2 detection and music control features with their recent update.
To access all your tracking info, you will have to pair the device with the Huawei Health app available for Android smartphones. While running through multiple notifications, the texts appear to be a little cramped up and make a slight discomfort in reading.
Honor has incorporated nine multiple sports modes like indoor/outdoor walking, running, rowing, swimming, etc. The Step Tracker seems to show closely precise values, but it also confuses vehicle rides for walking. Similar results are observed for the 24×7 heart rate monitoring, sleep analysis, and SpO2 tracking. Honor Band 5i is also water-resistant.
Battery- The Honor Band 5i comes with a 91 mAh battery that could last up to 5 days with all sensors active. The USB port comes in handy and provides a hassle-free charging experience. It only took about an hour to charge the band fully.
Key Features-
Color LCD touch display
In-built USB Connector
TFT-LCD Display
Water-Resistant
9 Multiple Sport modes
Sp02 monitor
Verdict
Even Though The Honor band 5i doesn't live up to the original, the band does a fine job for the price tag it sets. At a price tag under Rs.2000 Honor offers the users a well crafted design, adequate tracking and good battery life.
Pros
Built-in USB Charger
Comfy to wear with a polished design
Tracking accuracy is good enough
Sleep tracking takes the limelight
Cons
Removing the strap is a tricky process
Dials are difficult to adjust
---
3. Realme Band (Best tracking pick)
Realme has surely made a great impact on the Indian market after the launch of its first smartphone. Apart from manufacturing smartphones, Realme has also been producing fitness bands and wireless earphones. The Realme Band was their first launched fitness tracker.
Priced at an affordable rate of Rs.1,499, Realme offers an ample set of features, including 24×7 heart rate monitoring and IP68 water and dust resistance.
Build Quality and Design: The Realme Band comes with a clean and glossy design. With a body made of plastic, the band is extremely lightweight and fits your wrists perfectly. The straps are made of good quality TPU and don't cause discomfort while wearing them for long hours.
They come in three color variants- Black, Green, and Yellow. Detaching the strap reveals the USB-A port for a hassle-free charging experience.
The optical heart rate sensor can be found at the backside of the module. A circular button present just below the display helps you to navigate the menu. A long press on the button displays the daily step counts and other activities for users. The Realme Band is IP68 certified. Users can also wear it to shower or while swimming.
Display- The Realme Band comes with a 0.96″ TFT screen of 160×80 pixels resolution. It comprises 5 watch faces that display time and the step count. The band lacks a touchscreen display, so that you have to rely on the button always for navigation.
The display seems to have adequate brightness while wearing indoors, but it shows poor visibility of contents even after setting it to maximum brightness when you wear it outside.
Features and Performance- Realme provides a decent set of features that includes heart rate monitoring, step counter, sleep tracking, and nine sport modes. Apart from this, Drink reminders, Idle alerts, and Smart Notifications are also included.
Realme uses a PPG optical heart rate sensor to measure your heartbeats. The band measures your heart rate automatically every 5 minutes. You can also check your heart rate manually.
The sleep tracker is an effective feature that records and displays your sleep data in the Realme Link app. That said, this feature doesn't seem to work well all the time. The sleep tracker was found to be recording data when users were not wearing the band.
Realme has incorporated nine sport modes that include walking, biking, hiking, yoga, and cricket. The Cricket mode was specially made for India. Realme must probably be the first to introduce this. The step counting feature may not provide you an accurate value when compared to other fitness bands.
The Idle Alert and Drink Reminder is another highlighted attribute of this device. Idle Alert reminds you to take a walk if you sit at a place for too long, and the Drink Reminder notifies you to drink water at regular intervals. Smart Notifications Feature displays notifications of your incoming calls and messages.
Battery and Charging: The Realme Band provides a 90 mAh battery that lasts up to 6 days, assured by the company. USB-A port allows a hassle-free charging experience.
This feature comes in handy as you won't be requiring any additional cables for charging the device. The Realme Band took 1hr and 30 minutes to charge completely.
Key Features
Large Color Display
Personalized Dial Faces
Long Battery Life
IP68 Water-Resistant
Intelligent sports tracker
Heart rate monitor
Idle Alert
Sleep quality monitor
Verdict
Realme has done a fine job with its Smart Band as the device has got the adequate features for its price tag. The chinese brand could have done a better job with sleep tracking and step counting as it lacks accuracy. Check out best wireless mouse under Rs.1000.
Pros
Lightweight design makes it comfy to wear
Heart rate monitoring is excellent
USB A Connector
Fitness tracking performance was great
Cons
Display lacks quality when it comes to outdoor visibility
Sleep tracking and Step counter has got issues
---
4. Redmi Fitness Band (Best Pick for starters)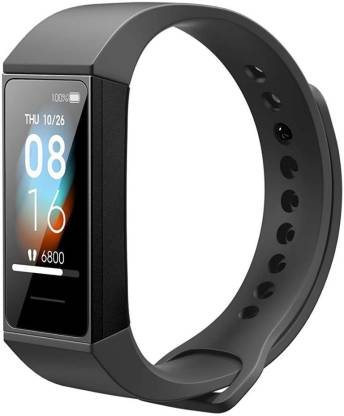 If you are looking for simple and classy fitness bands, The Redmi Fitness Band might suit you perfectly. It comes with a coloured touchscreen LCD, a heart rate monitor, and customizable watch faces at an affordable price of Rs 1599 only.
Build Quality and Design- The Redmi Fitness Band has a remarkably simple design. The band consists of two silicone straps attached to the module. It fits nicely around your wrists. The band might give you a hiker appearance, especially with the black variant. It is also available in blue, green, and orange colors.
Although the straps come in good quality, it gets a little difficult while trying to wear them. Holding the loop that goes around the other strap for tightening is some strenuous job to do.
One of the straps is removable and has a USB-A port for charging. So for charging, you should remove the strap every time. This does not seem to be an elegant feature as removing the straps is somewhat sticky.
Display- The Redmi Smart Band comes with a full touchscreen display with no buttons attached. It has a 1.08 inch 120×220 full-color LCD panel. The image quality of the band seems to be sufficient enough.
Although the display is a bit congested, it shows enough information. However, one of the main concerns regarding the display is its duration. It only lasts for roughly 5 seconds and cannot be altered. In addition, touch response is very much delayed.
Software and features- The UI is quite simple and easily accessible. Tapping the area below the display wakes the screen. Navigation seems pretty nice, but it would have been better if the screen didn't go off constantly and the touch response was quicker.
Redmi Fitness Band doesn't come with an always-on display mode. You have to depend on the raise to wake gesture to check the time. Even though this feature does not work every time, it often takes quite a while to wake up. The fitness band requires the Xiaomi Wear App on the smartphone to function.
Two watch faces are pre-installed on the device, but more watch faces are available in the app. Regrettably, only one custom face can be stored in addition to the pre-installed ones.
The fitness features of this device are limited when compared to more high-priced devices. However, it keeps track of your activities like outdoor running, walking, cycling, and keeping a record of your movements and steps.
Another nifty feature of this band is the inbuilt heart rate monitor. The sleep tracker feature is also included that could determine the quality of your sleep.
Battery- The Redmi Fitness Band seems to have adequately long battery life.The device is packed with a 130mAh battery. The company claims that the device can last upto 14 days straight. But the fitness band will only last upto a good 7-8 days of battery life on a single charge.
Key Features
Direct USB Charging for hassle-free charging.
1.08″ (2.74 cm) Full touch Color display with adjustable brightness and dynamic display.
Long Battery life that can last upto 14 days.
24 x7 Heart Rate Monitoring.
5ATM Water Resistant.
5 Professional Sports modes to suit your exercise scheme, including Outdoor running, Cycling, Treadmill, Power Walking, and Freestyle exercise.
Sleep monitoring to track the duration and quality of your sleep.
Extremely lightweight and fits your wrists perfectly.
Verdict
The Redmi smart band can be a great choice for users who are just starting into the fitness band segment. It will not cost you much and it has all the necessary features to satisfy the user. In Redmi Band you get what you pay for and you can't expect a miracle from it.
Pros
Strudy design with excellent looks
Display feature shines well with its color contrast
Filled with fitness features
Waterproof
Cons
Lacks swim tracking
Doesn't have a built in GPS
Not so comfy to wear for long hours
LCD display
---
5. Noise ColorFit 2 (Stylish Pick)
The Noise brand has been one of the top brands to produce the best fitness bands in the Indian market. Almost every product of this brand has a good amount of fan following. Therefore, you can't make a list of the best fitness bands under any price tag without including a Noise product.
For users looking for a fitness band that comes with a stealthy and stylish design, The Noise Colorfit 2 is a choice to go for. Noise provides a decent set of features at an affordable rate of Rs 1,899.
Build Quality and Design: The Noise Colorfit 2 comes with an even stealthier look than the previous edition. The straps are made of silicone which looks good and even better while wearing.
You won't be needing to remove it at times as it doesn't cause any discomfort while wearing. The Noise Colorfit 2 is IP68 certified water and dust resistant so that you could wear it while swimming.
The design of the strap is unique, and it comes in a classic black color. The Noise ColorFit 2 comes in Dusk Pink, Twilight Blue, and Midnight Black colors. The build quality is good enough to do the job as there are no visible flaws in the brand.
Display: The Noise Colorfit 2 has a 0.96-inch LCD color screen. However, an always-on feature is not included, so you have to lift your hand to wake the screen. This feature is excellent as it prevents battery drain.
The display has five levels of brightness settings which can be adjusted through the NoiseFit Sport app. Therefore, there won't be any comfort in viewing the band outdoors for users.
The Noise Colorfit 2 doesn't come with a touch screen display, so you must rely on the touch button located below the display to cycle through the pages. However, Noise also provides three watch faces which is a pleasant addition for the price tag it sets.
Software and Features: The UI is simple, and navigation seems to be pretty straightforward. You have to pair the band with the NoiseFit Sport app available for Android and IOS devices to view your daily activities, heart rate, sleep, etc.
The Noise Colorfit has 24×7 heart monitoring that tracks your heart rate every 5 minutes. It notifies your incoming calls, WhatsApp messages, Facebook, etc. In addition, Noise provides The Menstrual Cycle Tracker, beneficial for women, which is not found in fitness bands that come under this price category. You can also access the smartphone's camera through the remote camera feature.
The step counting feature in Noise Colorfit 2 shows accurate primary values. At the same time, the Heart rate measurement doesn't seem to provide precise values.
Noise has added 14 different sport modes, including walking, running, badminton, yoga, treadmill, etc. However, outside activities require the GPS feature on the smartphone.
Battery Life- The Noise Colorfit 2 comes with a 90 mAh battery that could last upto 5 to 7 days assured by the company. In addition, it comes with an in-built USB connector, so you won't need to carry a charger around every time. Well, charging takes about roughly 2 hours, which is tolerable.
Key Features
24×7 Heart Rate, Sleep & Step Tracking
14 different Sport Modes
Camera Control
Smartphone Notifications
0.96″ Full-Color LCD
IP68 Waterproof
Bluetooth v4.0 & Android and iOS compatible
5 Day Battery – 7 Day Standby
Verdict
The Noise brand has yet again hit the right chords, and the users will love the Noise ColorFit 2 from the brand. With a price tag under 2000, the fitness band provides some impeccable features making the band a value for money product.
Pros
Packed with features
A stylish yet minimalistic design
The band is lightweight, making it comfy to carry around
Detachable straps
Cons
issues with responses in touch
could have added more watch faces
---
6. Fastrack Reflex 2.0 (Honorable Mention)
Fastrack is one of the most popular brands in India. The brand has a good fan base among the youth as Fastrack provides some of the best and stylish watches in the country. The company also got a good reputation for providing quality assured sunglasses.
The Fastrack Reflex 2.0 is the successor of the Fastrack Reflex fitness band, which was one of the earliest releases from Fastrack into the market of fitness bands. The Reflex 2.0 is certainly an update from its predecessor, as the brand has put efforts to close the voids that the first version of this band had in its release.
Build Quality and Design- Fastrack has created a unique design for its Reflex 2.0. The band has two layers, with the outer one being rough and has ridged patches, whereas the inner side is smooth. The display is placed well in the silicone strap of the band.
The Fastrack Reflex 2.0 comes in three different color variants to the straps. They are Black, Grey, and Green. The Build quality is supreme, but it feels bulky at times. Still, the band is very comfy to wear around and goes well with a casual look.
Display- The Reflex 2.0 is packed with an OLED Display with a horizontal orientation. The brand promises an IPX6 rated water-resistant body to the display. The brightness is adequate for an indoor view, but the device lacks clarity when it comes to outdoor viewing.
Software and features- Compatible with both Android and IOS, The Fastrack Reflex 2.0 needs a Fastrack Reflex app to function properly. The UI is simple and very easy to handle. With the help of the app, users can easily customize the band according to their preferences.
The Find my phone and the camera control feature are some of the finest features from the Fastrack band. In addition, features such as track my step, calories burned, distance traveled, and more are featured in the Reflex 2.0 fitness band.
The Reflex 2.0 also features Heart monitoring and sleep tracking, but the results are not accurate enough. Tracking accuracy could have been better as users have complained about its lack of consistency.
Battery- The battery backup of Fastrack Reflex 2.0 is decent enough. The company claims ten days of battery life in a single charge. But if you use the band using all the features regularly, users can expect the battery to last about 6-7 days.
As the band supports USB charging, charging is done by connecting an adapter with the band, and it takes roughly 45 minutes to charge the fitness band fully.
Key features
Touch button; Display: Black and White; Upto ten days battery life, one year warranty
Compatible with iOS 8.0 and above & android 5.0 and above except the following phone models: Samsung Galaxy A9 Pro, Samsung Galaxy C9 Pro, Moto G5 series – all phones, Samsung Galaxy J2 Pro
Distance, steps, and calorie counter; Sedentary reminder; a Sleep tracker
Whatsapp & SMS display on the screen, Call notifications
Camera control: Acts as a remote control to take pictures on your phone. Phone finder – Tracks the phone
Band Color: Gray; Band Material: Thermo plastic ; Dial Shape: Rectangular; Dial Glass Material: Acrylic; Case Thickness:12.5 mm; Case Length(6H-12H):50 mm. Case Width(3H-9H):24.5 mm
USB type charging
Verdict
The Fastrack Reflex 2.0 is more like the last choice in the line. This segment is crowded with mediocre performing fitness bands, but Fastrack Reflex 2.0 doesn't belong to that category. The Reflex 2.0 can take away the fact that the band is certainly an upgrade of its predecessor.
Fastrack has made efforts to improve the band but needs a little more extra effort to push the band to the elite level in this price segment.
Pros
Stylish design that can easily go with casual looks
Find my phone features is a useful addition
IPX6 rating for Water Resistance
Cons
The display lacks clarity in outdoors
Tracking is below par
Heart monitoring and Sleep tracking lacks consistency
---
Final Verdict
Users are blessed with excellent choices for this segment of best fitness bands under 2000 Rs. All the bands that have found a slot in our list have got what it takes to do the job as all of them have got the basic features for a good fitness band.
But certain features make the Mi smart Band 4 from Xiaomi the best of the lot. The band has unlimited watch faces which is an excellent feature to have at such a low price. Adding to that is the presence of a great display and decent battery life.
The Honor 5i smart band is also not too far, but the band doesn't provide unlimited watch faces. If you are not concerned with that, Honor 5i is the best alternative for Mi Smart band 4.
You May Want to Know:-