Earphones are an essential part of our daily lifestyle regardless of whether you use it to tune in to music, watch movies, game, or talk. Imagine having to attend a call while working or being in a crowded space and wanting some privacy; Earphones are lifesavers for people in such scenarios.
Branded earphones with high-quality features are priced very high and are not within the budget of common people who are not willing to spend a lot of money on a basic gadget; however, more money can indeed fetch you a better quality earphone.
Therefore companies had to find a solution, so they started launching pocket-friendly earphones that were durable and also performed well.
This list brings you our top picks for the best earphones under Rs.500. Every product we included has been ranked according to their durability, the performance, and mainly taking into account the user feedback.
Best Earphones Under Rs.500
The list includes earphones from trusted and reliable brands like Realme, Mi, JBL, boAt, and so on. All the products have been compared and ranked with regard to their durability, performance, and sound quality while taking into account the user feedback.
You can also check out the best earphones under Rs.1000 and Rs.2000 to get more comfort, sound, and mic quality.
1) Realme Buds 2
Realme launched the successor to its entry-level earphones a few months back. Realme Buds 2 packed improved design, quality, and performance. This makes the offering from Realme the best earphone under ₹500.
Build Quality & Design – Realme decided to stick with a traditional design yet managed the earphone to look stylish and elegant. The earphone comes in three color variants – yellow & black, green, and red.
It comes with magnetic ear tips that come in handy if you do not have a case or pouch to carry your earphones. The integrated magnets help to store your earphones even in your pockets neatly.
The TPU braided cable guarantees the user that the earphone is strong and durable. There are also adjustable built-in cable straps that prevent the earphone from getting tangled.
Speakers & Sound quality – Realme Buds 2 comes with an 11.2 mm bass boost driver that is deep and punchy. Anyone looking for a good bass need not go anywhere else, because this is the best option under the price point.
The sound quality is excellent for music lovers and casual gamers.
Key Features:
Durable built
Powerful bass
Noise cancellation
Magnetic ear tips
Braided cable
Dedicated mic for calling
Dedicated buttons for music and video control
Verdict
Overall, the Realme Buds 2 is value for money. It's strong and durable for everyday use and is best suited for bass lovers and rough users. Magnetic tips and adjustable straps are quite helpful for easy storing, making it the best buy under Rs.500.
Pros
Built quality and design
Bass
Dedicated mic and buttons
Cons
---
2) Mi Earphone Basic
Mi is one of the most trusted brands in India because of its affordable and well-built products. The earphones from Mi is the next best option under Rs.500.
Build Quality & Design – Mi Earphone Basic was designed for long-lasting comfort. Mi provides silicone earbuds that are quite comfortable even when used continuously. It has an anti-slip angular design that prevents it from slipping out of the ear during activities like running or during a work-out.
The earphone is tangle-free and has an aluminum alloy coating to protect against corrosion and has zircon sandblasting to make it scratch and slip-resistant.
The AUX is L-shaped and is gold-plated so that it does not hinder movements and provides a clean sound output when watching videos or playing games.
The earphone is a good option for all the PUBG players with a dedicated mic and button for call and music playback. The earphone comes in three color variants – black, red & blue.
Speakers & Sound Quality – Mi Earphone Basic has an ultra-deep bass with a 10 mm driver. The aluminum sound chamber helps to adopt better Sound quality. There is passive noise cancellation so that external disturbances won't affect the call quality.
Mi claims that the earphone has been customized for the Indian market to provide a well-balanced performance with more bass; the sound quality is very decent for the price.
The bass is not on the same level as the Realme Buds 2 and some other earphones in the list, but for a price of just Rs.399, this is value for money.
Key Features:
Ultra-deep bass
High-quality earbuds
Dedicated mic and button
Aluminum alloy sound chamber
Verdict
Mi Basic Earphone is a true value for money. It offers durable built with average performance. If your budget is a little below ₹500, you know which earphone to go for.
Pros
Cons
Sound quality and bass is just average.
---
3) boAt BassHeads 100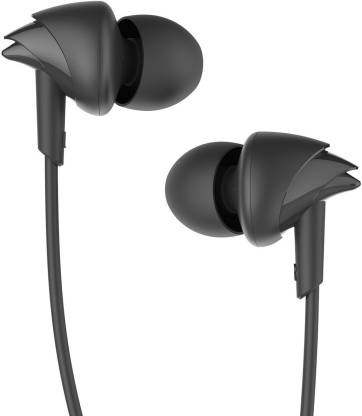 the boAt is a renowned brand in the audio gadgets circle and has been offering quite a lot of value for money earphones. The boAt BassHeads 100 is one of the best earphones under ₹500 from the company.
Build Quality & Design – boAt BassHeads 100 has a unique hawk design to it, which offers a comfortable fit compared to the usual designs. This gives a premium look to the earphone that many others lack in the price point.
The stylish earphones are superior coated and come with a lengthy cable, making them durable and perfect for everyday use. The earphone from boAt is available in 4 color options – black, white, red & pink and comes with different sized ear tips.
Speakers & Sound quality – The earphone features a 10 mm driver providing extra bass, and sound quality is good enough. boAt BassHeads 100 features an HD microphone offering superior call quality.
The dedicated button can be used to play/pause music, answer/end calls, and play the next/previous track with a certain number of clicks; the earphones also support Alexa, and to use the feature, simply download the boAt lifestyle app.
Key Features:
Extra bass
HD sound
Built-in Alexa app
Passive noise cancellation
Verdict
For regular use, the earphone is fine. It comes with a lengthy cable, so it is a good option for entertainment purposes.
Pros
Design
Sound quality
Length
Cons
No L-shaped jack
Bass is average
---
4) Realme Buds
The first generation entry-level Realme earphone is still value for money. It was the first earphone to come with eye-catching specifications at a low price point in the Indian market.
Build Quality & Design – The cable is made from reinforced, break-resistant kevlar fiber, which ensures premium quality and durability. The kevlar coating can protect the earphone from wearing out. The braided jacket is top quality and prevents the earphone from being tangled.
The ear tips are comfortable and are designed to stay in the ear for longer sessions. It comes with magnetic ear tips making it easier to carry. The dedicated buttons can control music, handle calls, and also access google assistant.
Speakers & Sound quality – With an 11 mm audio driver and 160 percent louder bass that the company claims, the audio output is great, and the bass feels quite powerful. It is a good option for music lovers and gamers; the overall speaker's output is excellent.
Key Features:
160 percent louder bass
Break-resistant kevlar fiber
Magnetic ear tips
Verdict
Realme Buds offer great specs for the price, but its technology is outdated. Spend a little more, and you can own the better and more durable Realme Buds 2.
Pros
Durability
Bass
Dedicated button for voice calls and control
Cons
---
5) boAt Bassheads 242
Build Quality & Design – The earphone is stretch-resistant, which means it is very durable and ideal for every sporty person. The ear hook has a different design that ensures a secure fit and wouldn't fall out when exercising or when going for a run.
BassHeads 242 is IPX 4 sweat and water-resistant, so you need not worry about carrying this with you to the gym. The coated cable can withstand wear and tear, twisting, and tangling.
Speakers & Sound quality – The 10 mm dynamic driver with HD sound offers heavy bass and loud audio output. The bass could be overpowering at maximum value, but for music-lovers or work-out enthusiasts, boAt BassHeads 242 performs well.
Key Features:
IPX 4 rating
Secure fit hooks
Coated cable
Verdict
This is the only earphone from our list that features IPX 4 rating, making it the ideal earphone for every sports lover.
Pros
Fit and comfort
Noise cancellation
IPX rating for athletes
Cons
Bass feels uncomfortable and punchy.
---
6) Infinity Zip 100 JBL
Infinity Zip 100 is backed by JBL and brought into the market by Harman, so naturally had a lot of hype to its name.
Build Quality & Design – Infinity Zip 100 features a 1.2m tangle-free flat cable; no need of worry when tucking it inside your pockets or while taking it out. The earbuds are soft and are comfortable on the ear for a long time.
The jack is gold plated and L-shaped for better connectivity and ease of use. It has a single button that is capable of every function at once. The dedicated button can also access google assistant/Siri depending on the phone.
Speakers & Sound quality – The Zip 100 has deep bass sound and is aimed at music and gaming lovers. The earphone is one of the best options for gaming. It features a 9mm dynamic driver that brings out crystal clear audio.
Key Features:
Deep bass
Tangle-free cable
Voice-assistant enabled
9mm dynamic driver
Verdict
The earphone from Harman does not live up to its name, but for a casual user who looks for brand value above quality, Infinity Zip 100 is a good option.
Pros
Tange-free design
Gold-plated jack
Sound quality
Cons
Build quality
Bass is average
---
7) boAt BassHeads 182
Build Quality & Design – The earphone comes with a dual-color braided cable that promises no tangle and no hassle. It has a shiny finish that gives it a classy look. boAt BassHeads 182 comes with integrated mic and buttons.
A gold-plated jack is also present for better clarity output.It comes in three color variants – black, red & blue.
Speakers & Sound quality – On the speaker's front, BassHeads 182 comes with a super extra bass that is punchy and toned. The 10mm driver offers HD sound and call quality.
Key Features:
Super extra bass
Braided cable
Integrated mic and button
Verdict
For those who love punchy and aggressive music, boAt Bassheads 182 can be considered. There are, however, better options with better quality.
Pros
Cons
No volume control
Vibration
---
8) boAt BassHeads 152
Build Quality & Design – Featuring a dual-coated braided tangle-free cable and a metallic finish, boAt BassHeads 152 is one of the best durable earphones you can buy under ₹500.
A 3.5mm gold-plated L-shaped jack for better performance and quality along with the in-line microphone and a multi-function purpose button makes it user friendly and convenient. The earphone is very durable and resistant to wear and tear.
Speaker & Sound quality – 10mm drivers with HD sound support is great at this price point. Super extra bass is available for all loving bass customers out there.
Key Features:
Metallic finish
Dual-color braided cable
Multi-purpose integrated button
Verdict
There are better options from the boAt brand on our list. This one is a little pricey and offers limited specifications compared to others.
Pros
Durability
Sound quality
Bass is not punchy or aggressive
Cons
Little pricey compared to other boAt options.
---
9) JBL C50HI
JBL is one of the most trusted and reliable brands in the musical industry. JBL C50HI is the budget-oriented earphones that offer JBL experience and still managed to look stylish.
Build Quality & Design – The earphone is quite lightweight and comfortable in the ear with three sizes of earplugs provided in the box. An in-line microphone with google assistant/Siri support, multi-function button, and L-shaped jack also add to user convenience. Color choices include Black, red, and blue.
The cable is not tangle-free, unlike most of the earphones on our list, but we can only expect a little from an entry-level offering of a premium luxury brand. The audio quality is superb, and there are no vibrations or distortions at the maximum sound level.
Speakers & Sound quality – JBL C50HI comes with signature JBL true bass powered by 8.6mm drivers, and it does not disappoint. The audio is loud and crisp. The bass is not at the same level as other earphones on our list. It performs average, so if you are a bass lover, you should look at other options available.
Key Features:
JBL signature sound
One-button remote
Compatible with Google Assistant/Siri
Noise isolation
Lightweight
Verdict
If brand value matters more to you than value for money and performance, JBL C50HI is the best option from the lot.
Pros
Lightweight and comfy
Premium brand
Cons
No coating or braided cable protection
No tangle-free cable
---
10) boAt BassHead 225
Build Quality & Design – boAt BassHead 225 is a complete package as it comes with an engraved metallic finish, tangle-free cable, and a gold-plated L-shaped jack. The noise-canceling microphone allows for hassle-free calling. It has a smooth and secure fit on the ear.
It comes with 6 different color options, namely black, forest green, white, neon lime, blue, and red. The neon color variants are unique and catchy to look at.
Speakers & Sound quality – Powerful 10mm drivers with bass-driven stereo sound make way for clear and Crisp Sound. The audio and bass is deep and does not hinder at any point. High volume may cause some irritation, but otherwise, the earphones perform very well.
Key Features:
Metal finish
Noise-isolation mic
Tangle-free cable
Integrated mic
Verdict
This earphone is exclusively for music-lovers and for those who are okay with compromising on comfort.
Pros
Sound and Call quality
Built
Heavy bass
Cons
Not so comfortable in-ear
Color tends to fade off
---
Conclusion
That is the end of our list of best earphones under Rs.500 in India. More earphones are yet to launch this year, as of now, these are your best options. We decided on this last after hours of comparison and trails. Keep supporting us for more exciting content.
You May Like to Know:-