Today, a wide variety of entertainment options are available to consumers via their smartphones. Listening to music, watching movies, and tv shows on our smartphones have become an essential part of our lives. Therefore, a pair of good earphones have become an integral part of our lives.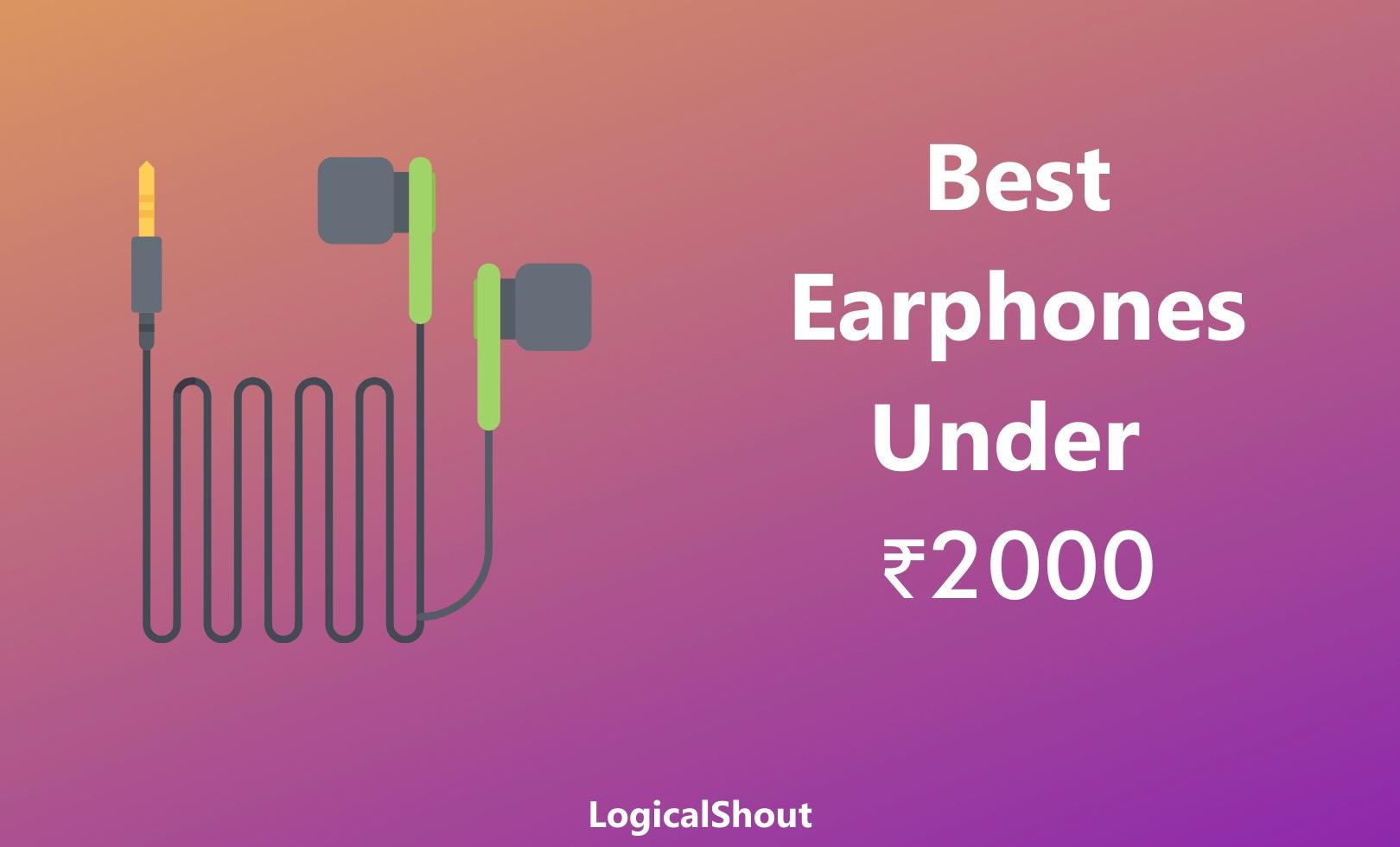 There are numerous factors, such as build quality, sound quality, and features that make an earphone good. However, the general trend shows that as headsets become more expensive, all these factors significantly improve, and as a result, produce a better earphone.
After spending a lot of money on your phone, you would not want to compromise on the experience it provides you by trying to save some money on the earphones you purchase. Many brands in the market offer some of the best headsets at a price slightly higher than budget earphones.
This list from LogicalShout brings you the best earphones under 2000. Surely, you have to pay a price premium for these earphones, but they also offer the best audio experience in this price category.
You can also checkout best in-ear headphones under Rs.1000 and under Rs.500.
Best Wired Earbuds Under 2000
Every single earphone on our list has been ranked according to their durability, performance, sound quality, and user feedback. Alright, let's get right into the list of the best earbuds under 2000.
1) Sony MDR-XB55
For a very long time, Sony has been one of the best brands to choose from for your audio equipment needs. With the MDR-XB55, Sony continues its tradition of making earphones that deliver the best-in-class audio experience.
Build Quality and Design – The XB55 comes in three vibrant colors – black, blue, and grayish-white, to suit the style of every individual. It also has a highly durable, finely serrated cable that stops it from getting tangled inside your pockets.
These earphones are also incredibly lightweight and have comfortable silicone ear tips so that they can be worn for long hours without any discomfort.
Sound Quality – The XB55 features a 12mm neodymium driver, which creates a very powerful, detailed, and balanced sound. Even the clarity of the voice recorded on the in-line mic was high.
They also have a wider frequency range than most earphones spanning from 4Hz to 24kHz. As a result, it delivers deep bass, rich mids, and soaring highs. It also has extra bass technology, which allows listeners to lose themselves in the intensity of the deep bass in the audio.
Key Features
Extra Bass Technology
12mm Neodymium Drivers
Metallic Finish Housing
Carrying Pouch Supplied
Verdict – Sony is one of the most reputed brands that offer the best-wired earphones under 2000. The XB55 has the premium build quality and a stylish design. It also provides the best sound quality in this price segment. The Sony MDR-XB55 is our top pick.
Pros
Excellent Sound Quality
Deep Bass
Great Microphone Quality
Broad Frequency Range
Tangle-free Cables
Cons
---
2) Sennheiser CX80
Sennheiser is a trendy brand that offers a wide range of earphones and caters to various price segments. The company is well-known for providing consistent quality in all its products ranging from high-end to low-end.
Build Quality – The CX80 has a very simple yet elegant design. The earphones are extremely lightweight and come with three sizes of ear tips in the box. Even though the earphones look quite basic, the build quality is premium.
Sound Quality – This earphone is designed to fit perfectly in the ear. Therefore, it provides optimal isolation from ambient noises and provides a very immersive audio experience.
Most users found the mic of this earphone to be its best feature. Many users reported that the in-line mic is great for making calls in noisy environments. So, you do not need to worry about the traffic noise disrupting your phone calls.
Key Features
Ambient Noise Isolation
Smart Remote
Balanced Sennheiser Sound
Matte Finish
Verdict – The Sennheiser CX80 has the excellent build quality and clear sound. It has one of the microphones in an earphone in this price segment. If your use requires you to make many phone calls while travelling, this is an excellent pick for you.
Pros
Lightweight
Best-in-class Microphone
Excellent Build Quality
Comfortable Ear Tips
Cons
Cables Get Easily Tangled
---
3) Philips Hi-Res Audio PRO6305BK
Philips is not a household name when it comes to popular earphone brands. With the PRO6305, they aim to deliver a balanced and natural sound. Using their high-resolution audio, they believe that they can reproduce music in its purest form.
Build Quality and Design – This earphone is built using a vacuum metallization process, which gives it a very premium metallic finish. It is very stylish, and it also has a reliable build quality.
It comes with three sizes of comfortable interchangeable ear tips that provide an optimal fit for all users.
Sound Quality – The PRO6305 supports audio files with a higher sampling frequency and bit depth than a CD. Therefore, the user can expect clear highs and strong lows with a smooth bass.
It also has a built-in remote and microphone that can be used to switch from music playback to phone calls quickly.
Key Features
High-Resolution Audio
12.2mm Neodymium Driver
Vacuum Metalized Finish
In-line Microphone
Passive Noise Isolation
Verdict – Though Philips is not a very popular brand when it comes to earphones, the PRO6305 offers impressive performance and also looks excellent, making it one of the best earphones under 2000.
Pros
Excellent Sound Quality
Stylish Design
Good Microphone
Comfortable
Cons
Bass Can Sometimes Be Overpowering
---
4) RHA MA390 Universal Earbuds
RHA is a company that specializes in making headphones, and it is based out of Scotland. With its products, RHA offers pioneering technology that merges innovative design and precision-engineered metals.
Build Quality and Design – With its sturdy aluminum build, dynamic drivers, and Aerophonic housing, the RHA MA390 is the Aston Martin of in-ear headphones. It can easily take the wear and tear of everyday use.
It also has Y shaped braided cables that are tangle-free. This avoids the cables from getting tangled and being damaged. The 3.5mm connector is gold plated for extra durability.
Sound Quality – The RHA MA390 has a custom-engineered driver that is housed in an Aerophonic driver housing. As a result, the earphones deliver an immersive and powerful sound with excellent clarity.
The silicone ear tips fit perfectly in the ear and attenuate external noise to provide ambient noise isolation. It also has a one-button remote that is compatible with both Android and iOS devices.
Key Features
Aerophonic Driver Housing
Passive Noise Isolation
Android and iOS Compatibility
Aluminum Body
Custom-engineered Driver
Verdict – The MA390 offers an excellently built earphone with decent sound quality. It not only looks premium but also uses high-grade components. Overall, it is an excellent pair of earphones, but the brand does not provide excellent customer service in India.
Pros
Stylish Design
Tangle-free Cables
Lightweight
One-button Microphone
Cons
Poor Customer Service in India
Sound Quality Could Have Been Better
---
5) Signature Acoustics Elements C12 Version 2.1
Signature Acoustics is an Indian brand that was founded in 2010; Its mission is to cater to audiophiles around the world. The Elements series from the brand is based on various elements from the periodic table. The C12 earphones are inspired by carbon.
Build Quality and Design – The elements C12 looks stunning with its wooden body and premium jute packaging. It has highly durable tangle-free cables with a glossy finish.
It has memory foam ear tips for the best fit and noise isolation. Additional accessories include silicone ear tips in different sizes. It also has a gold plated audio jack for extra durability.
Sound Quality – The C12 uses an 8.2mm Beryllium driver that delivers distortion-free bass. Even its maple wooden housing creates a natural acoustic sound effect. It has warm mids, clear highs, and very punchy bass. It also has an in-line microphone with a shirt clip for hands-free calling.
Key Features
Handcrafted Maple Wood Casing
8.2mm Beryllium Driver
Distortion-free Bass
Made in India
Jute Pouch Provided
Verdict – The Signature Acoustics C12 earphones have a unique design that will help you stand out from the crowd. It offers excellent sound quality and is very durable. Honestly, there are very few drawbacks to this earphone. This one of the best earphones under 2000, and is a strongly recommended buy.
Pros
Excellent Build Quality
Passive Noise Isolation
Durable Cables
Lightweight
Cons
---
6) Sony MDR-EX255AP
Sony is well-known for its earphones all around the world. Their headsets have an excellent sound quality and a durable build. With the MDR-EX255AP, Sony delivers the quality that they are known for and added a few smart features to make our lives a little more convenient.
Build Quality and Design – These earphones have a stylish metallic finish housing and come in four different colors to match the style of each individual. It comes in black, red, blue, and gray.
The earphones also come with different sizes of ear tips and are incredibly comfortable and lightweight. It also comes with a wire manager to keep your earphone's cables from getting tangled.
Sound Quality – The EX255AP features a 12mm neodymium driver, which produces a detailed, balanced, and powerful sound. It also has a wide frequency range spanning from 5Hz to 25kHz. Such a wide range allows listeners to hear every detail in each track.
It also has an in-line mic that helps you quickly switch to a call while you are listening to your music. By downloading an app from the play store, you can configure your mic button to choose from volume control of track control functions.
Key Features
4 Vibrant Colour Options
12mm Neodymium Driver
Metallic Finish Housing
Wide Range Frequency
Verdict – The MDR-EX255AP brings the excellent sound quality and build that Sony is known for and packages it in a very stylish and feature-packed earphone. However, its microphone could have been better placed.
Pros
Durable Build Quality
Wire Manager
Detailed Sound
Comfortable
Lightweight
Cons
---
7) OnePlus Type-C Bullets Earphones
The new trend in the smartphone industry is the disappearance of the 3.5mm jack. Even OnePlus has jumped onto this bandwagon. Investing in these Type-C earphones from OnePlus will future-proof your wired earphone experience.
Build Quality and Design – Ever since the first generation of OnePlus phones, they have always had a very impressive build quality that was on par with brands such as Apple, Sony, and Samsung. OnePlus has maintained its high standards for build quality even in the earphones department.
These earphones are made from a lightweight aluminum alloy, and its build quality is one of the best in-earphones under 2000. Its earpiece is slightly oblique angled to provide a perfect fit inside the ears.
Sound Quality – The OnePlus Bullets have an advanced internal DAC that offers high-resolution audio support. It has a perfect balance of clear highs and warm mids and has a punchy bass that most people will love.
It has a custom dual-layer 10mm driver that helps it deliver such impressive audio quality. The snug fit of its earpiece also creates a passive noise cancellation effect.
Key Features
Built-in DAC
3-button In-line Remote
Highly Durable Build
Type-C
Verdict – Since all smartphones are ditching the headphone jack, it might be a good idea to invest in a Type-C earphone. The OnePlus bullets offer an excellent audio experience without compromising on build quality.
Pros
Stylish Design
Excellent Microphone Quality
Good Bass
Cons
Compatibility Issues With Older Phones
---
8) SoundMagic E10C
SoundMagic is an award-winning earphone brand that was founded in 2005. The E10C is the successor of SoundMagic's E10S line of products. It retains all of its predecessor's features and comes in a much more attractive package.
Build Quality and Design – The E10C is constructed with a two-tone metal earpiece body and low profile metal hardware. It has a stylish metal finish and looks very premium.
It also has tangle-free cables and a wire clip, thus, these earphones are very easy to wear and maintain. Its accessories include a carry case, 7 different sized ear tips, and a dual audio splitter.
Sound Quality – The E10C produces clear highs and mids. Even its trebles and vocals are clear enough. It also does an excellent job of isolating instrument sounds. It has been configured to deliver powerful bass and is compatible with most smartphones.
Key Features
Award-Winning Earphone
Compatible With Many Devices
Integrated Smart Remote
Verdict – SoundMagic is not a very well known brand, but they have managed to deliver a well-built earphone with decent sound quality. The E10C is one of the headsets that you must consider if you are looking to buy the best earbuds under 2000.
Pros
Elegant Design
Fantastic Build Quality
Come With Many Inbox Accessories
Decent Sound Quality
Cons
---
9) 1More Single Driver Earphone
1More is an earphone manufacturing brand that is very popular in China. This is the brand that makes earphones for smartphone companies like Xiaomi, OnePlus, and Realme. With the Single Driver earphone, 1More wanted to offer a premium earphone at an affordable price.
Build Quality and Design – This earphone has a very stylish design and looks much like professional-grade earphones. The earpiece is aligned at oblique angles that match the natural curve of the ear.
The earphones are also extremely lightweight as it is made with an aluminum alloy body. Even its cables are braided with TPE and nylon to make it tangle-free, and it also does not make any noise when the cable rubs against clothing.
Sound Quality – The dynamic driver in the earphones emit a balanced frequency response that is evenly balanced and does not have loud bass, or any treble is boosting mechanisms. It has been designed to deliver a precise reproduction of how the artist intended the song to sound.
It also has a triple layer diaphragm with titanium grade metal inside, which increases the high end and midrange clarity and response time. Its in-line remote controls are compatible with both iOS and Android devices.
Key Features
Dynamic Driver
Custom Tuned by Experts
Triple-Layered Diaphragm
Ergonomic Design
Verdict – If you are looking for an earphone that does not compromise on sound quality and offers reasonably good build quality, the 1More Single Driver earphones are a great option.
Pros
Well-balanced Audio
Comfortable
Lightweight
iOS and Android Compatibility
Tangle-free Cables
Cons
---
10) Sony MDR-EX155AP
The Sony MDR-EX155 AP earphones are made for people who always live their life on the go. Sony advertises this earphone that lets users answer calls comfortably, even when they are on the go. According to Sony, these earphones can be chucked into your bag after you are done using them.
Build Quality – This earphone comes in four vibrant color options, so everyone gets what they like. It is very lightweight and comes with three different sized ear tips, and has a wire manager to prevent the cables from getting tangled.
Sound Quality – The EX155AP features a 9mm neodymium driver, which delivers a powerful and balanced sound. It also has a wide frequency range spanning from 5Hz to 24kHz. It allows listeners to hear every single detail in each track.
It has an in-line mic that lets you easily switch between your music and a call. The functions of the button can be customized using an app that can be downloaded from the play store.
Key Features
9mm Neodymium Driver
Customizable Remote
Vivid Colour Options
Wide Frequency Range
Verdict – Though Sony advertises this earphone as something that can handle the wear and tear of an on-the-go lifestyle, many users have reported that this earphone breaks easily.
Pros
Comfortable Ear Tips
Lightweight
Elegant Design
Highly Detailed Audio
Cons
Poor Build Quality
Improper Mic Placement
---
Conclusion
This is the end of LogicalShout's list of the best earphones under 2000 in India. We have performed thorough research and conducted countless trials before making this list so that you can be sure that these are the best options available in the market. We hope this list helped you in picking out a pair of earphones that is perfect for you. Stay tuned for more exciting content.