Do you have an earphone crisis? Have they worn out? Are they broken or too old now? Do you need a new pair to pair to partner up with your smartphone? Well, you have come to the right place. Here you will get the detailed list about the best earphones in India.
Before buying an earphone, there are lots of things that we need to consider. The first point to be made is that not everyone prefers wireless connectivity. The majority still uses and prefer wired earphones over their wireless counterparts.
Wired headsets bring out more audio quality, and for audiophiles, that is the main factor of concern, but we all have our preferences. Whether it be color, uses, brand, or any other critical feature, you must think twice before making a final choice.
We often get confused about whether to focus on the price, brand, or quality. What if you get the best quality at the best price? That's why we are here to help you make the right choice. We are going to tell you all the best earphones you can get in India.
Some are pricey, but the quality they bring justifies the price tag. If you are looking for a particular budget range, then please check out the best earphones under Rs.2000, Rs.1000, and Rs.500.
Top 10 Best Earbuds in India
This list has been prepared after thorough research and comparison, keeping in mind the quality, performance, and user feedback. Without any drag, let's get into the list.
1) Sony MDR-XB75AP
Sony has a reputed name in the tech industry. They have produced high-quality products over the years. Earphones from Sony are always considered a top class, and the Sony MDR-XB75AP is our top pick for the best earphone in India.
The details of the earphone will make you understand better why we made this choice.
Build Quality & Design – The earphone has an aluminum finish, although a certain half is made of plastic. Build wise the Sony MDR-XB75AP is strong and sturdy. The finish is also shiny, giving it a very classic look.
The earphone is lightweight, and it comes with a pouch, so you don'tdon't need to worry about carrying it.
Three sets of silicone earbuds are provided, which are of different sizes for users' convenience. There are stress relievers on both sides of the earphone.
The cables are tangle-free, and you don'tdon't need to worry about the earphones being messy. MDR-XB75AP is very comfortable on the ear, and you can use it for a very long duration without any irritation.
There is an in-line mic that enables hand-free calling. It has a universal button or what sony calls Smart Key for calls/play/pause/skip. You can configure the smart key to perform the action you want through an app that is available from the play store.
The microphone gives excellent clarity overcall. The 3.5mm jack is gold-plated for longevity and L-shaped for free movement.
Speakers and Sound Quality – Sony claims the earphone has been tailor-made for EDM lovers. The headset comes with extra bass technology that enables deep bass notes, almost giving you the feel of a real live festival or show. The noise cancellation is excellent as expected.
MDR-XB75AP features a 12mm Neodymium driver for balanced and powerful sounds. It has a bass duct, which enhances clarity. There is no distortion up until 80% of volume. When you go higher, you might notice some changes.
The bass has enough punch and is well suited for EDM or Hip-hop lovers, although anyone who loves music will enjoy these pairs of earphones. The earphones have overall balance when it comes to the sound.
Key Features:
Extra Bass
Smart Key
Lightweight
Verdict
This is the best choice for any casual listener or music enthusiast or gamers. The bass is quite good with an overall durable build. You could listen in high volume, and it would give you a festive feel wherever you are. Any audiophile and EDM lover should look no further, as this is the best pick for them.
Pros
Build quality
Tangle free
Noise cancellation
Bass level
Cons
Volume at max level is a little disturbing.
---
2) FiiO F9 Pro
An upgraded version of the esteemed Fii0 F9 with better specs and much more definition. The latest product from the Chinese company ceases to impress with its pure performance. The F9 Pro takes the spotlight away from its sibling.
Build Quality & Design – FiiO F9 Pro comes with an aluminum shell with a detachable cable design with an in-line microphone and control button. It comes with the usual 3.5mm audio jack.
The earphone is over-the-ear, so overall comfort is superior. You can go on for hours listening to music without any fatigue. It comes with a pouch and some pairs of ear tips to change accordingly.
The interchangeable cables bring in a lot of balance. You can switch between balanced and single-ended cable with standard MMCX connectors. Overall, the build quality is excellent, and the earphones will stay with you for a very long time.
Speakers & Sound quality – The earphone features three dynamic drivers for better output – a standard 9.2mm driver and Knowles dual balanced armature. FiiO F9 Pro has immense capabilities with Hi-Res audio.
The bass comes from a PEK polymer dynamic driver, which produces detailed and extended bass. The bass feels natural and deep. There is noise cancellation for unwanted hindrances.
Key Features:
Hi-Res audio
Detachable MMCX connector
1 dynamic + 2 balanced armatures
In-line remote + mic
Verdict
FiiO F9 Pro has outdone its predecessor. It is bigger and better than the F9 variant in terms of connections, sound quality, and built and still managed not to be priced very high. If you are ever confused between F9 Pro and F9, you now know which to choose.
Pros
Comfort
Durability
Noise cancellation
Cons
The sound quality for the price is not up to mark.
---
3) SoundMAGIC E11C
SoundMAGIC has garnered a massive reputation for launching high-quality earphones at affordable prices. One of the latest offerings from the brand, the SoundMAGIC E11C, follows as the next from the E line up and is one of the best earbuds in India.
Build quality & Design – E11C is made from aluminum casing giving out an elegant look with a glossy finish. A standard 3.5mm jack and a storage pouch is provided with the box, which is very convenient. The E11C comes with a tangle-free cable that is made of silver-plated copper for a better audio experience.
The in-line mic with three buttons- volume buttons and play/pause buttons covers all the commands you will need on daily usage. Also provided in the box are three pairs of ear tips of various sizes for users to change when and as required.
Speakers & Sound quality – 10mm dynamic driver ensures a balanced and matured sound output with deep and extended bass. The bass has a much better impact, and choosing the most suitable ear tips for your ear improves the experience more.
The volume at the max level is really loud, thanks to the higher sensitive rating of the earphone.
Key Features:
10mm driver
Aluminum casing
Precision cable
3 button remote
Verdict
SoundMAGIC E11C is a great budget option for those looking for an elegant and well-built earphone. It is not meant for every sort of music lover, but for casual lovers, this checks all the right boxes.
Pros
Design
Noise isolation
Remote and mic
Cons
Sound quality could have been made better.
---
4) Philips PRO6305BK
Philips has been in the market for decades producing top-notch technology. Earphones from Philips are generally well-built and deliver perfect sound output. The Philips PRO6305BK is no different.
Build Quality & Design – The first thing to be noted is that the earphones are lightweight and durable. It is quite comfortable with its sleek ergonomic design. The premium metallic finish makes it sturdy and gives it a luxurious look.
They come with an offset ear tip that fits right in the ear. Additionally, there are three interchangeable ear tips. The built-in mic has echo-cancellation for clearer audio.
Speakers & Sound quality– Philips PRO6305BK comes with 12.2mm neodymium drivers for enhanced sound performance. The Hi-Res audio supports higher frequencies and makes the bass smooth and strong. Users have reported the bass to be low and underperforming at times.
Key Features:
Echo-cancellation
Lightweight
Neodymium drivers
Verdict
The Philips PRO6306BK is a perfect mix of elegance and performance. The sound quality is solid and justifies the price tag.
Pros
Built-in mic
Metallic finish
Cons
---
5) 1More Triple Driver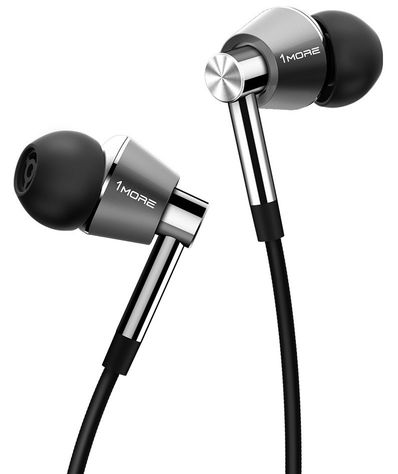 1More has a high price tag, making anyone wonder why they should invest in something so costly. Anyone will be worried if such expensive earphones will live up to its hype; however, the 1More Triple Driver has done just that. The under 7,000 market has its competitors, and 1More has come up with a product that comes up top.
Build Quality & Design – The earphones are made from aluminum with plastic in some areas. The cables are distinctive in different areas with fiber for durability and plastic for comfort. However, the plastic has been reported to be a disturbing part for many users.
The foam ear tips easily set in the ear without any sort of discomfort. There are 9 different sets of ear tips so you will never have a problem with finding the one that fits you the best.
An in-line remote is present for easy control of volume and track, and it comes with a noise cancellation MEMS mic to filter out the cross-talk and background noises. The lightweight body with Kevlar fiber makes the earphones perfect for daily use.
Also, the packaging of the earphone deserved to be mentioned. You get a leather case, ear tips, an airplane adapter, and a shirt clip all enclosed in a premium case. For those who love luxury items, look no further.
Speakers & Sound quality – An excellent remark of this headphone is that it has been tuned to perfection by Grammy winner and sound engineer Luca Bignardi. This is a very appealing factor to any audiophile as they can be sure that the Grammy winner would not disappoint.
1More Triple driver as the name suggests features 3 drivers – two balanced armatures and one dynamic driver to create a unique and spacious experience for the listeners.
The sound is crisp, and the bass is excellent with a significant impact. The earphone delivers a very satisfying experience overall.
Key Features:
Aluminum built
MEMS mic
Leather case
Tuned by Luca Bignardi
Triple drivers
Verdict
Based on the performance and user feedback, 1More Triple Drivers can be named the best earphone in India. The only reason it sits at the 5th position in our list is because of its high price and plastic built in some areas.
The sound output of this earphone is the best from our list. We highly recommend this earphone to every audiophile, but for a casual listener with a lower budget, there are other choices.
Pros
Clear sound quality
Build quality
Bass
Remote buttons are very responsive
Packaging
Cons
---
6) Sennheiser CX 80S
Sennheiser always has the top quality product ready to serve your needs. Their products always come out perfectly in every curve. Sennheiser CX 80S is our next pick for the best earbuds in India.
Build quality & Design– Sennheiser is a well-known brand among the sound and gadget industries. The CX 80S provides a sleek design, which makes it incredibly portable and easy to use.
The ear tips material is made up of silicone making it usable for extended periods without aching your ear much. The earphone ships with 3 sets of ear tips.
CX 80S has an in-line mic and button for call and music management. The earphone is stylish and compact, so it'sits very user friendly. Added to that, the lightweight feature makes it one of the best headsets currently available in the market.
Speakers & Sound quality – The sound quality is not compromised due to its sleek design. The CX 80S provides a balanced quality of sound and does not fluctuate to extreme frequencies. It has an omnidirectional microphone, which means the sound will be picked up equally from all directions.
Key Features:
Uncompressed and balanced sound
Remote
Omnidirectional microphone
Verdict
People who love Sennheiser branding can go for the CX 80S. There is not much bass or built quality that is durable in the long run, but the earphone is a good choice for a casual listener.
Pros
Cons
---
7) Mi Dual Driver
Mi is best known for its affordable products, and Mi Dual Driver keeps up the legacy. It'sIt's aggressively priced for Indian customers.
Build quality & design – Mi Dual Driver comes with a regular design, a 3.5mm L-shaped jack, and aluminum built. Mi offers magnetic earbuds, which is a great plus when you need to carry them around. The cables are tangle-free and braided for rigidity and to prevent tangling.
The anti-slip earplugs are very soft and make sure it stays in the ear even during a workout or exercise. The aluminum casing not only makes the earphones lightweight but also ensures an anti-scratch surface and makes it fingerprint-resistant.
Mi Dual Driver comes with a dedicated mic and 3 button control, and the controls are very responsive and easy to use.
Speakers & Sound quality – The performance is fair for the price. The sound is mediocre and average. The bass is strong and is almost consistent. The dual dynamic drivers do offer a better experience, but it'sits not up to the expectations.
There is very little to no distortion when playing sound, and the noise isolation is good, and the call clarity is excellent. If you are familiar with EQ tuning, you can get the best results from these earphones.
Key Features:
Dual dynamic drivers
Magnetic earbuds
Tangle-free cables
3 button control
Verdict
Mi dual drivers are very affordable compared to a lot of options from our list. They are not on par with sound quality as well but can be significantly improved if you put in some time and effort to tune as per your needs. For users who do not want to struggle every time, you can look at other options.
Pros
Premium design
Magnetic buds
Cons
---
8) Realme Buds 2
Realme Buds 2 is the second of its line up. A successor to the Realme Buds, the upgraded sibling has improved performance and quality. Realme Buds 2 is one of the most affordable earphones and is our next pick for the best earphones in India.
Build Quality & Design– Realme followed a traditional design, but the earphones look elegant and classy. The earphones come in colors such as yellow-black, green, and red. There is a dedicated mic and button for calls and controls.
Realme Buds 2 comes with magnetic earbuds for storage purposes. The cables are TPU braided, which makes it strong and sturdy. Realme has also provided adjustable cable straps to prevent tangling.
Speakers & Sound quality – Buds 2 features an 11.2mm bass boost driver that produces deep notes. The sound quality is excellent value for the price, and the earphones are best suited for casual listeners and users who love games such as PUBG.
Key Features:
Powerful bass
Noise cancellation
Magnetic ear tips
TPU braided cable
Verdict
Realme Buds 2 is of real value for money. It'sIt's perfect for everyday use and has all the necessities. It is recommended for those on a low budget.
Pros
Cons
---
9) JBL C200SI
JBL is one of the top dogs in the business. Indian customers prefer JBL because of their trusted service over the years.
Build Quality & Design – The earphone has a sleek and shiny metal finish making it look and feel very premium. It's lightweight with an L-shaped jack and is quite durable.
The earphones are comfortable in the ear and can be used for a long time at a stretch, in-line microphone comes along with one-button control and Google assistant access.
Speakers & Sound quality– JBL signature sound alone proves that the earphones have excellent sound quality. The JBL pure bass is natural and appealing to everyone. The noise-isolating microphone gives clarity to all calls being made.
Key Features:
JBL signature sound
Pure bass
Verdict
JBL C200SI is a very durable and comfortable earphone. This one is for all the JBL signature sound lovers.
Pros
Google assistant access
One button control
Build and Design
Cons
---
10) Blaupunkt EM10
Blaupunkt is a well known German brand that has a reputation for making great audio equipment. The EM10 is also a commendable piece of work and is one of the best earphones you can grab in India.
Build Quality & Design – Blaupunkt has not provided the users with any tangle-free cable, but there is an L-shaped jack and a pure copper cable for better stable connections. The earphone features a multi-functional remote and in-line mic. The earphones are suitable for daily and rough use.
Speakers & Sound quality – The EM10 is bass-centric, but the bass wasn't as expected. The sound is clear and natural, and there are no audible distortions. There is noise isolation for better clarity output, and the sound output quality is balanced.
Key Features:
Balanced sound
In-line mic
Multi-function remote
Pure copper cable
Verdict
The earphones are perfect for casual listeners as they fulfill all basic needs. For the price, you could go for the Realme Buds 2, which comes with much better specifications.
Pros
Sound quality
Tangle-free design
Cons
---
Conclusion
Every gadget has its flaws, and picking the right one is very hard, but we are sure we helped you choose better. We have put in our best efforts to bring you the best options after several comparisons and trials. These are the best earphones you can buy in India at the moment. As newer products arrive, we will be updating them further.